Silicon Controlled Rectifiers (Thyristors)
SIDACtor® Protection Thyristors prevent component property degradation.
Press Release Summary: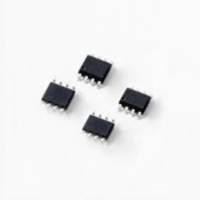 Available in B61089QDR and B9110DF Series models, SIDACtor® Protection Thyristors provide protection for WLL, plain old telephone service signals, voice over IP, digital loop carrier and small office, home office systems. B61089QDR Dual-Port Battrax offers surge protection for SLIC cards which implement negative voltage ringing and B9110DF Series provides protection for SLIC cards which implement both positive and negative voltage ringing.
---
Original Press Release:
New SIDACtor® Protection Thyristors from Littelfuse Safeguard SLIC Interfaces from Lightning-Induced Surges, Power Fault Events
Includes fast-switching crowbarring structures compatible with ITU recommendations
Littelfuse, Inc., the global leader in circuit protection, today introduced two series of SIDACtor® Protection Thyristors designed to protect SLIC (Subscriber Line Interface Circuit) interfaces against lightning-induced surges and power fault events. The surface-mount B61089QDR and B9110DF Series Thyristors for Programmable Tracking Protection contain fast-switching crowbarring structures that are compatible with the Basic levels outlined in the ITU K.20, K.21 and K.45 recommendations from the International Telecommunications Union (ITU).
The B61089QDR Dual-Port Battrax provides surge protection for SLIC cards that have only implemented negative voltage ringing. The B9110DF Series provides surge protection for SLIC cards that have implemented both positive and negative voltage ringing, which are used in most telecommunications applications today. It also tracks the Vcc reference of the SLIC chipset so that if/when it enters a low quiescent stage, the protection threshold will match this lower threshold.
Applications for the B61089QDR and B9110DF Series include protection for:
Wireless in the Local Loop (WLL) systems,
Voice applications that require regenerated POTS (Plain Old Telephone Service) signals,
Voice over IP (VoIP) applications,
Private Branch Exchange (PBX) systems,
Foreign Exchange Station (FXS) applications,
Digital Pair Gain systems (DPG),
Digital Loop Carrier (DLC) systems, and
Small Office, Home Office (SOHO) systems.
"The B61089QDR and B9110DF Series provide crowbarring power fault protection at levels far superior to the typical clamping device," said Jeff Chin, product line director for SIDACtor Protection Thyristors at Littelfuse. "They combine superior surge protection performance with a low switching threshold and low on-state voltage to ensure better protection."
B61089QDR and B9110DF Series SIDACtor Protection Thyristors offer these key benefits:
High performance protection for SLICs with + VBAT and –VBAT references for the B9110DF Series and –VBAT reference for the B61089QDR Series and with changing VBAT references.
Prevent component property degradation after multiple surge events within the rated limits, thereby extending equipment lifetime.
Help line drivers comply with global standards because these devices are certified, environmentally friendly and suitable for worldwide usage.
Availability
B61089QDR and B9110DF Series SIDACtor Protection Thyristors are provided in SOIC packages in tape & reel format in quantities of 2,500. For a listing of Littelfuse distributors, please visit Littelfuse.com.
For More Information Additional information is available on the B61089QDR Series product page and B9110DF Series product page. For technical questions, please contact: Jeff Chin, product marketing director, at JChin@littelfuse.com
About Littelfuse
Founded in 1927, Littelfuse is the world leader in circuit protection with growing global platforms in power control and sensing. The company serves customers in the electronics, automotive and industrial markets with technologies including fuses, semiconductors, polymers, ceramics, relays and sensors. Littelfuse has over 10,000 employees in more than 40 locations throughout the Americas, Europe and Asia. For more information, please visit Littelfuse.com
Media Contact:
Rhonda Stratton
Global Marketing Communications Manager
Electronics Products, Littelfuse, Inc.
773-628-0644
More from Software