SiC Abrasive Paper delivers uniform surface finish.
Press Release Summary: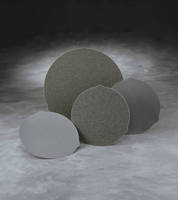 CarbiMet® 2 Silicon Carbide abrasive paper removes 75% of all material within first 60 sec of use and provides consistent scratch pattern. Water-resistance premium C weight paper can maintain integrity for up to 100 min in durability tests. Paper is available in plain backed discs of 8, 10, and 12 in. dia, and pressure sensitive adhesive backed discs in same diameters, plus 2 7/8 in., in grit ranges from 60 (P60) through 600 (P1200).
---
Original Press Release:

New SiC Abrasive Papers Increase Remove Rate by up to 20 Percent



Buehler's new CarbiMet® 2 abrasive papers improve productivity over original CarbiMet, meet or beat competitive abrasive papers.

Highlights/Key Facts

o Faster removal with a uniform surface finish for consistent results.

o Exceptional durability/life-to-material-removal ratio.

o Can be substituted into existing methods.

LAKE BLUFF, Ill. - Buehler's new CarbiMet® 2 silicon carbide (SiC) abrasive papers increase material removal rates up to 20 percent and 10 percent compared to original CarbiMet and competitive grinding papers, respectively. Increased material removal rates reduce total procedure time. On average, CarbiMet 2 removes 75 percent of all material within the first 60 seconds of use.

CarbiMet 2 exhibits minimal material deformation, provides a consistent scratch pattern and features a water-resistance premium C weight paper with exceptional life-to-material-removal ratio. Although SiC papers have an effective grinding life of two to three minutes, CarbiMet 2 can maintain its paper integrity for up to 100 minutes in durability tests conducted at Buehler's materials analysis lab. Manufactured in an ISO 14001/2004 certified facility, CarbiMet 2 is produced with less pollution, in part due to an efficient water and air recycling system and an environmentally friendly resin bond.

Applications include dry and wet grinding and polishing of ferrous and non-ferrous materials, including stainless steel, titanium, copper, aluminum and printed wired boards in automotive, aerospace, primary metals, metal fabrication, welding, testing and quality control environments.

Product Manager Quote

"CarbiMet 2 SiC grinding discs provide a superior combination of speed, quality and consistency. In 120/P120 grit, it offers the highest removal rate available, yet delivers a uniform scratch pattern for consistent batch-to-batch results."
-Andrea Johnson, product manager, Buehler

Additional Information

Direct Substitute
Although CarbiMet 2 can reduce grinding time, a procedure change may not be necessary. Buehler suggests substituting CarbiMet 2 directly into the existing method and reviewing the results at the end of preparation. CarbiMet 2 should exhibit similar life and surface finish to previous SiC grinding papers. The paper's ability to remain flat and resistance water make it well suited for semi-automatic applications.

CarbiMet 2 is available in plain backed discs (8" (203mm), 10" (254mm) and 12" (305mm)) and pressure sensitive adhesive backed discs (same diameters as above, plus 2-7/8" (73mm)) in grit ranges from 60 (P60) through 600 (P1200). CarbiMet 2 rolls and strips are available in 240 (P280), 320 (P400), 400 (P800) and 600 (P1200) grit.

Buehler is the world's premier manufacturer of scientific equipment and supplies for materials preparation and analysis. Buehler's products are used throughout the world in manufacturing facilities, quality laboratories and universities to enable material characterization, ensure quality and perform materials research. For more information, visit www.buehler.com or contact Buehler at 41 Waukegan Road, Lake Bluff, IL 60044 or (ph) 847-295-6500. Buehler is a wholly owned subsidiary of Illinois Tool Works (NYSE: ITW).

More from Materials