Shrouded Pin Headers promote reliable SMT connections.
Press Release Summary: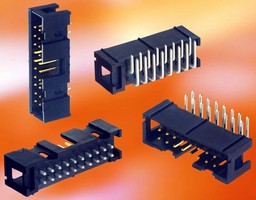 Suited for cable-to-board applications, Quickie® Shrouded Pin Headers are designed for lead-free pin-in-paste (PiP) soldering, which allows through-mount connectors to be attached using SMT soldering processes. Header body employs high-temperature thermoplastic, and housing design is adapted to optimize flow of solder paste. Headers feature 4-wall shroud and mate with Quickie IDC (insulation displacement connection) or Dubox(TM) CTW (crimp-to-wire) receptacles.
---
Original Press Release:

FCI Develops Quickie® Shrouded Pin Headers for Strong, Reliable SMT Connections



ETTERS, PA (November 30, 2006) - FCI, a leading developer of connectors and interconnect systems, expands its successful FCI BASICS+® range of commodity connectors with two new versions of Quickie® Shrouded Pin Headers for cable-to-board applications. Both are specially designed for Pin-in-Paste (PiP) soldering.

"Pin-in-Paste technology allows through-mount (TMT) connectors to be attached using surface-mount (SMT) soldering processes, while still providing the mechanical strength of soldered TMT leads," said David Sideck, Regional Market Manager, FCI. "By enabling the use of SMT reflow soldering processes, these new TMT connectors offer customers an opportunity for applied cost savings by eliminating the need for a separate wave-solder operation in the process flow."

The Quickie PiP header body employs high-temperature thermoplastic to ensure compatibility with lead-free soldering temperatures, and the housing design is adapted to optimize the flow of solder paste during soldering. Solder tail lengths are reduced to avoid the risk of pushing solder paste out of the PCB through holes during connector placement. Connectors can be supplied either in tubes or tape-on-reel packaging to support automated pick-and-place during board assembly. The headers feature a 4-wall shroud and mate with Quickie IDC (insulation displacement connection) or Dubox(TM) CTW (crimp-to-wire) receptacles.

FCI has extensively tested the Quickie PiP connector and offers full application support including stencil design, paste application, and board layout recommendations.

Quickie headers and cable connectors are part of the product range included in the FCI BASICS+ program. The FCI Basics+ service program encompasses industry-standard 2.54mm and 2mm pitch connectors for board-to-board, wire-to-board and cable-to-board applications.

Prices for Quickie PiP headers vary depending on the number of contacts, but average $0.0175 per contact for quantities of 50,000 pieces.

For more information on the Quickie PiP headers, contact FCI at 825 Old Trail Road, Etters, PA 17319-9351; call 800-237-2374, e-mail at [email protected] or visit FCI on the web at www.fciconnect.com/basics.

About FCI

With operations in 30 countries and sales of 1.28 billion euros in 2005, FCI is a leading manufacturer of connectors. Our 13,500 employees are committed to providing customers with high-quality, innovative products for a wide range of consumer and industrial applications. For more information: www.fciconnect.com