Shrink Wrap Used to Cover Mansion Roof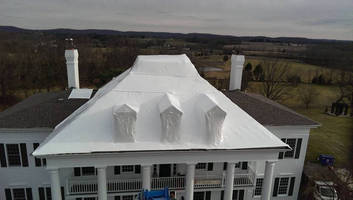 Mellon Certified Restoration Turns to Mr. ShrinkWrap for Weather Protection



Buckingham, PA – Shrink technicians from Mr. ShrinkWrap completed installation of a partial roof cover to the fire-damaged sections of a Georgian-style mansion roof in Buckingham on Christmas Eve afternoon.



Using 80 and 60 foot man lifts, the shrink technicians were able to secure the film to more than 70% of the mansion's roof, covering more than 1500 square feet. Waterproof heat shrink tape was also applied to reinforce all seams and edges. The type of shrink wrap used is similar to that often used for boat covers, but much thicker and has flame retardant properties.



The restoration project is in response to a third story fire that occurred in the afternoon on October 22, 2013. It is the third fire in four years at the Stony Hill Road residence. The cause has not yet been determined in any of the fires, according to officials.



Mr. ShrinkWrap Service Manager, Kevin Reese states, "The shrink wrap cover will serve to prevent further water damage until property owners decide on how they want to proceed with the house restoration process."



About Mr. Shrinkwrap

Mr. Shrinkwrap Protective Services, Inc. (www.mrshrinkwrap.com) provide on-site shrink wrap services across the US and is a global distributor of shrink film, heat guns, shrink wrap tape, preservation tape, stretch wrap, self-adhering films, and shrink wrap supplies. Mr. Shrinkwrap provides a variety of commercial, industrial and residential shrink wrap applications.



Since 1991, Mr. Shrinkwrap has evolved from a local boat covering service to a thriving business with national scope. Mr. Shrinkwrap has been asked to provide shrink wrap services for objects ranging from outdoor furniture to nuclear power turbines.

More from Architectural & Civil Engineering Products