Shredders reduce waste volume.
Press Release Summary: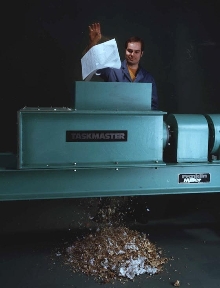 Available as single or dual stage units, TASKMASTER twin shaft shredders reduce bulk solids and debris by up to 80%. They aid in recycling, protect pumps, and shred materials from documents and off-spec items to solid waste and sewage screenings. Units are designed with seal systems for wet, submerged, and dry operation. They are also available as complete systems in steel or stainless steel construction.
---
Original Press Release:

TASKMASTER SHREDDERS - CUT WASTE VOLUME


Whether your application is for a stand-alone shredder, wet grinder or complete size reduction or screening system, Franklin Miler has an engineered solution for your application.

TASKMASTER low speed, high torque twin shaft shredders reduce bulk solids and debris by up to 80%, aid in recycling, enhance processing and systems, protect pumps and shred confidential waste materials. These units are designed with unique seal systems for wet, submerged as well as dry operation. TASKMASTER shredders reduce confidential documents, off-spec manufactured items, electronic components, medical waste, wood, plastic, paper and rubber parts, wastewater, solid waste, sewage screenings and more.

These shredders can be supplied as single or dual stage units or as complete systems with granulators, conveyors, feeders, conveyors, and air filtration. They are supplied in steel or stainless steel construction complete with hopper, stand and automatic control systems.

For more information contact Franklin Miller Inc. 60 Okner Pkwy., Livingston, NJ 07039 USA; Phone 1-973-535-9200; Fax 973-535-6269; franklinmiller.com; email: [email protected]