Short-Throw 3LCD Projectors feature whiteboard sharing tool.
Press Release Summary: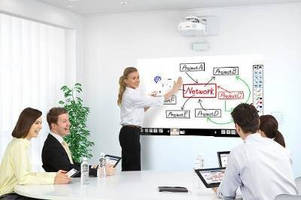 Using built-in tools that do not require computer or software, BrightLink® Pro 1430Wi and 1420Wi transform any flat surface, such as existing whiteboards and tables, into digital whiteboards and interactive spaces. Whiteboard Sharing Tool allows up to 15 participants to join whiteboarding session directly from any mobile device with web browser or from another BrightLink Pro. In addition, Model 1430Wi supports finger touch capabilities with up to 6 fingers annotating simultaneously.
---
Original Press Release:

Epson Introduces New BrightLink Pro-Series with Whiteboard Sharing Tool and Finger Touch Capability



Two Unique BrightLink Pro Collaborative Whiteboarding Solutions Deliver Increased Meeting Productivity and Improved Functions



LAS VEGAS -- InfoComm, Booth #C7430 -- Epson, the number-one selling projector brand worldwide(1), today announced its new BrightLink(®) Pro-Series designed to revolutionize meeting rooms and classrooms. The BrightLink Pro 1430Wi and 1420Wi transform any flat surface, such as existing whiteboards and tables, into digital whiteboards and interactive spaces by using built-in tools that don't require a computer or software. The new series feature a new Whiteboard Sharing Tool that allows up to 15 participants to join a whiteboarding session directly from any mobile device with a web browser or from another BrightLink Pro - without using a software or app.



"According to a recent study(2), 37 percent of employee time is spent in meetings. We created BrightLink Pro to ensure that meeting time is spent in the most productive and efficient manner," said Sean Gunduz, senior product manager, Projectors, Epson America, Inc. "In addition, both in-room and remote collaboration needs are becoming very critical for today's meetings and training sessions. Our simple interactive tools take meetings to the next level, allowing users to engage in a truly immersive and collaborative environment."



Designed for businesses, as well as higher education and K-12 environments, BrightLink Pro ultra-short throw interactive meeting room projectors are easy to use and work like an appliance. Users simply turn on the projector and start writing with no PC required. Unlike traditional whiteboards, users can add up to 50 blank pages for virtually unlimited writing space, as well as save, print and email notes, with improved email functionality. For users editing and annotating on top of existing image or document files, these models also deliver improved object tools such as copy, paste, crop, and rotate for ease-of-use. The BrightLink Pro 1430Wi supports gestures(3), up to six fingers for annotations, as well as dual-pen support.



Expanded Features



The new BrightLink Pro projectors offer a Whiteboard Sharing Tool that allows users to connect up to 16 devices for easy meeting collaboration. Whiteboard Sharing Tool offers three levels of collaboration to manage simultaneous users - view only, write/edit without adding pages, and full edit privileges.



In addition to serving as a digital whiteboard, the BrightLink Pro-Series is an ideal solution to be used as a videoconferencing display, offering split-screen(4) capabilities to view two sources side-by-side. Users can display images as large as 100-inches diagonal, effectively replacing the need for a flat panel display.



More about the BrightLink Pro-Series:



--  Whiteboard Sharing Tool: Allows 15 participants to join a whiteboarding session via other BrightLink Pro 1430Wi and 1420Wi projectors, PCs, smartphones, and tablets using a web browser and to engage collaboratively without the need for a software or app

--  Finger Touch Annotation: BrightLink Pro 1430Wi supports finger touch capabilities with up to six fingers annotating simultaneously

--  Improved Email Functionality: Offers address book access and ability to send e-mails to up to 10 recipients, for increased productivity

--  Bring Your Own Device (BYOD): Leveraging the free Epson iProjection(TM) app, users can bring their own iOS Apple devices running iOS 4.2 or later and most Android devices running Android 2.3 or later to project on BrightLink Pro, annotate, capture, and share(5)

--  Advanced Connectivity Options: Includes two HDMI ports, one with MHL (Mobile High-Definition Link) support for connecting multiple digital devices, including mobile phones, tablets and other portable devices, for enriched high definition viewing capabilities

--  Control Pad: For increased ease of use, the control pad acts as a USB hub, extension to USB ports or as a remote control unit. Connect to USB thumb drive, PC or printer; also offers buttons to power the BrightLink Pro on and off, and to select major functions, including whiteboard mode, source search, capture, print, or save

--  PC Interactivity: Turns the interactive pen into a wireless mouse and provides flexibility to run any application on a computer, access the web and edit documents on the go; can be enabled via a combination of two HDMIs, VGA, and USB cable or wirelessly using free EasyMP® Network Projection

--  Video Conferencing: Users can easily connect video conference equipment and leverage split-screen(4) capabilities to view two sources side-by-side, creating a display as large as 100-inches diagonally

--  Three Times Brighter Colors with Epson(6): Epson 3LCD 3-chip technology ensures the projection of brilliant images with true-to-life color

--  High Brightness: Both models offer 3,300 lumens of color brightness and 3,300 lumens of white brightness(7)



Color Brightness Specification and Projector Performance

The new color brightness specification (measuring red, green and blue) published by the Society of Information Display (SID) allows consumers to compare projector color performance without conducting a side-by-side shootout. With today's high definition content, corporate and higher education presenters can display content with higher quality in brighter environments. For a truly impressive image, projectors need to offer both high color brightness and high white brightness. High color brightness is important for larger screen sizes and provides flexibility for a variety of screen materials. Without sufficient color brightness, images may be muddy, soft and lose detail, even in a dark room. For more information, visit www.colorlightoutput.com.



Availability and Support

The Epson BrightLink 1430Wi and BrightLink 1420Wi projectors will be available in August through VARs and resellers for $2,999* and $2,799*, respectively. Epson BrightLink Pro projectors come with a two-year limited warranty (three years for Brighter Futures customers) that includes Road Service projector replacement program with projector exchange in one business day with paid shipping, and a 90-day limited lamp warranty. For additional information, features and a product video, visit http://www.epson.com/blpro.



About Epson

Epson is a global innovation leader dedicated to exceeding expectations with solutions for markets as diverse as the office, home, commerce, and industry. Epson's lineup ranges from inkjet printers, printing systems and 3LCD projectors to industrial robots, smart glasses and sensing systems and is based on original compact, energy-saving and high-precision technologies.



Led by the Japan-based Seiko Epson Corporation, the Epson Group comprises more than 73,000 employees in 94 companies around the world, and is proud of its ongoing contributions to the global environment and the communities in which it operates. Epson America, Inc. based in Long Beach, Calif. is Epson's regional headquarters for the U.S., Canada, and Latin America. To learn more about Epson, please visit: www.Epson.com.



You may also connect with Epson America on Facebook (http://www.facebook.com/Epson), Twitter (http://twitter.com/EpsonAmerica) and YouTube (http://www.youtube.com/EpsonTV).



* MSRP; Brighter Futures education pricing available



(1) Based upon Q4 2013 worldwide front projection market share estimates from PMA Research

(2) Meetings in America, A Verizon Conferencing White Paper, copyright 2014

(3 )With Windows 7/8 or Mac OS X only

(4) Consult your user manual for input combinations.

(5) Functionality may vary depending on hardware, application, and/or provider restrictions or limitations. Devices and cables not included.

(6) Compared to leading 1-chip DLP business and education projectors based on NPD data, July 2011 through June 2012. Color brightness (color light output) measured in accordance with IDMS 15.4. Color brightness will vary depending on usage conditions

(7) Color brightness (color light output) and white brightness (white light output) will vary depending on usage conditions. Color light output measured in accordance with IDMS 15.4; white light output measured in accordance with ISO 21118.



Note: EPSON and EasyMP are registered trademarks, EPSON Exceed Your Vision is a registered logomark and Epson iProjection is a trademark of Seiko Epson Corporation. BrightLink is a registered trademark of Epson America, Inc. All other product brand names are trademarks and/or registered trademarks of their respective companies. Epson disclaims any and all rights in these marks.



CONTACT:

Duane Brozek

Epson America, Inc.

562-290-5683

Duane_Brozek@ea.epson.com



Web Site: http://www.Epson.com

More from Fasteners & Hardware