Cleaning Compounds and Chemicals
Shoe Cleaner with internal controls to adjust brush speed.
Press Release Summary: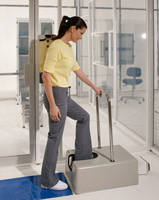 Brushing and vacuuming of shoes at the push of a lever, Motorized Shoe Cleaner features 5 brushes placed at various angles to clean all surfaces of the shoe. Suitable for labs, cleanrooms and gowning rooms, cleaner is housed in damage-resistant, thermo-formed plastic that is compatible with cleanrooms. With easy to reach on-off lever, shoe cleaners come with, or without, an internal vacuum system with HEPA filter.
---
Original Press Release:
Motorized Shoe Cleaner
Terra Universal offers a Motorized Shoe Cleaner for labs, cleanrooms and gowning rooms. In a controlled environment, people are the biggest source of contamination, and falling particles accumulate on floors. The shoe cleaner automatically brushes and vacuums shoes with the simple push of a lever. Inside the housing, five brushes placed at various angles are activated to clean all surfaces of the shoe.

The on-off lever is an easy-reach, waist-high handle, also serving to help workers balance during the cleaning cycles. Cycles last as long as the lever remains in the "on" position. Shoe cleaners come with, or without, an internal vacuum system with HEPA filter. Users have the option of connecting the shoe cleaner to an in-house vacuum utility.

The cleaner's housing is made of damage-resistant, thermo-formed plastic that is compatible with cleanrooms; it does not shed particles. Standard 110V outlets are all that is needed to run the shoe cleaning system. An internal control also allows speed adjustment of the brushes.

Terra Universal has 40 years of experience with critical enclosure cleaning systems and gowning process products. Visit www.TerraUniversal.com for more information about their Filter Replacement Alarm System

Contact:

Mike Buckwalter
Terra Universal: Marketing
Phone (714) 578-6000
Mike@TerraUniversal.com
More from Computer Hardware & Peripherals