Shipping Frame increases capacity within same footprint.
Press Release Summary: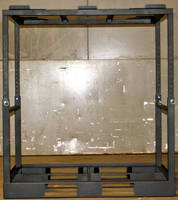 Customized to fit specific shipping requirements, Layer Saver™ 2-deck frame maximizes space in trucks, railcars, and land/sea containers. Shipping frame protects product against damage and crushing while allowing shipper to stack or cube out container. First tier can hold several rows of corrugated product, while extendable second tier expands capacity to hold 33%–50% more product within same footprint. All standard wood and plastic pallets fit on frame.
---
Original Press Release:

Layer Saver Awarded a United States Patent



Layer Saver, LLC located in the Chicago area and producing in Chicago, IL and Hartford City, IN, announces the award by the US Patent Office of a Patent.  The two-deck patented frame is designed to maximize the space in trucks, railcars, and land/sea containers. Customized to fit each customer's shipping requirement, the Layer Saver™ frame protects product against damage and crushing while allowing the shipper to stack or "cube out" the container.



Layer Saver™ is a shipping frame made to withstand more weight than conventional wood or plastic pallets. Its unique design allows for the first tier to hold several rows of corrugated product (just like a traditional pallet) and then with its easy-to-extend Layer Saver™ second tier, the frame expands its capacity to hold at least 33% (and sometimes 50%) more product, all within the same footprint of a standard pallet.  All standard wood and plastic pallets fit on the frame as well as slip sheet applications.



Falling in line with the sustainability mandate, customers will be able to reduce their carbon footprint by shipping more product on less trucks.  Fuel costs and transportation costs will be drastically reduced when the truck, railcar or container can be filled without worry of damage claims.



The Layer Saver frames are available for purchase, lease or lease-to-own and carry a two-year warranty.



If you would like more information about this topic or to schedule an interview with Charles Kiolbasa, please contact Cyndy at 630-325-7287 or

[email protected]