Emergency / Disaster Relief Shelters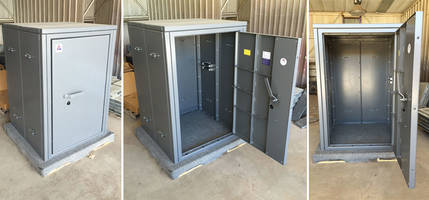 Mineral Wells company making, selling tornado-rated storm shelters and safe rooms
When last March 7 – without warning – a tornado struck the Cool home of Glen and Vickie Zell, they literally had seconds to react.
As the roof of their Mineral Wells Highway home lifted off, and debris slammed the south side of their home, they scrambled to make it to the steel, reinforced storm shelter installed inside their large master bedroom closet.
"When we ran through here (their master bedroom and bathroom toward the closet), sheetrock was already coming down," Glen Zell said. "Vickie said I had to throw sheetrock from in front of the closet door to make it inside, but I don't remember that."
They made it into their safe space with literally no time to spare, and they credit their interior shelter with saving their lives.
"Absolutely," he said. "Had it been anywhere else, we would not have gotten to it. I tell everybody I talk to put it somewhere, where you can get to it safely."
Their home was destroyed, along with the destruction or damage of 11 other homes, as well as other outbuildings and structures. They recently have been able to return to their rebuilt home on the hill just east of FM Road 113 North. Again located in a corner of their walk-in master closet is the very same safe room they ran into last March.
The Cool tornado happened almost a year after a small one hit downtown Mineral Wells, causing minor damage in the downtown and midtown area. The North Texas area has seen devastating and deadly twisters in recent years, such as the EF-4 tornado that struck Granbury in May 2013, killing six and injuring more than 100 people. There was the massive EF-5 tornado that killed nine people in the Garland and Rowlett areas east of Dallas the day after Christmas in 2015, part of a violent storm system that killed 13 people in North Texas that day.
Those storms, along with others across Texas, Oklahoma and the southeast U.S., helped lead a Mineral Wells manufacturer of commercial steel storage tanks and concrete products to go into the storm shelter and safe room business.
Watkins Industries Inc., located on Grant Road at Wolters Industrial Park, has established American Safe Shelters, with 25 made and ready for sale and installation. ACE Hardware in Mineral Wells is a local distributor, or you can visit http://www.americansafeshelter.com/ for more information or to download a brochure.
"This is something that every home could use one," said company owner Rusty Watkins.
He said the recent tornadic storms in North Texas and across the U.S. led him to creating the company and product, a logical extension of their steel and concrete manufacturing lines.
Built in modular panels to accommodate two people, four or a group of 12 or more, the reinforced steel safe rooms have been tested and certified to withstand winds and impacts caused by an EF-5 tornado, with winds of up to 250 mph. Watkins' unit passed testing at Texas Tech University's Debris Impact Facility at its National Wind Institute.
More specifically, Watkins said his companies above-ground storm shelters are rated and tested to meet and exceed FEMA and ICC building code requirements and standards related to FEMA 320 (2014) and ICC-500 for the design and construction of storm shelters.
Watkins said the rooms are made to go inside a home, such as a large closet, inside a garage or atop any concrete slab where it can be securely anchored – done by drilling 4x5/8 inches holes at 12-inch centers around the base of the shelter to ensure it remains in place during the most violent of land storms.
The units have a powder-coat finish and are ventilated, and the steel plate is ballistic-rated and tested. It can be locked from the outside, making it good to use as a gun storage room, and can be deadbolt-locked from the inside, making it tamper proof in the event of a break in.
"That keeps someone you don't want from coming inside," Watkins said.
Each shelter has a three-point locking and three-point hinge system.
"The standards say you only need two storm-rated hinges but we added a third for increased protection in case one of the other two fails," said Watkins.
The panels can be removed from the inside if needed, and there are other customization options available including lighting, gun racks, wireless cameras and storage benches with hinged access openings.
"Another good thing about ours is, if you move, it can move with you," said Watkins.
With pricing beginning at $3,950 for a two-person safe room measuring 2x4 feet, the cost includes delivery and installation.
A storm and safe room might not be something you ever have to use, but if you need it you will be glad you have it and made the investment to protect yourself and family. Just ask the Zells if their safe room is worth it.
Watkins Industries
P.O. Box 1268
Mineral Wells, TX 76068
Phone: 940-325-6008
Url: http://www.watkins-industries.com/
More from Software