Shear Cell allows automated powder testing on rheometer.
Press Release Summary: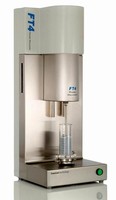 Designed for FT4 Powder Rheometer, 1 ml Shear Cell allows fully automated shear testing of powders. It allows study of powder flowability characteristics at early stage in formulation development when only small volumes may be available. FT4 is automated, universal tester designed for rapid and consistent characterization of powders.
---
Original Press Release:

Freeman Technology launches 1 ml Shear Cell at AAPS Annual Meeting & Exposition



Booth # 3236

25 Sep 2007; Welland UK: Freeman Technology is launching a new accessory for the FT4 Powder Rheometer at this year's Annual Meeting & Exposition of the American Association of Pharmaceutical Scientists (11-14 Nov 2007; San Diego, USA). The new 1 ml Shear Cell will allow fully automated shear testing of powders on the FT4 using the minimum possible sample volume. This is a major consideration for many pharmaceutical materials and will allow the study of powder flowability characteristics at an early stage in formulation development when only small volumes may be available. The new accessory extends the range of shear cells for the FT4, adding to the existing 85 ml and 10 ml capacity systems.

Widely used within the pharmaceutical industry, the FT4 is an automated, precision-engineered system designed for the rapid and consistent characterisation of powders. Centred on a revolutionary, patented design it offers dynamic, shear and bulk property measurement in a single system and is a universal powder tester. This integrated testing approach allows the characterisation and understanding of powders in industrially relevant ways. This makes the FT4 an ideal tool for formulation and process development, troubleshooting and QC applications.

Closely defined measurement protocols, including a unique pre-measurement conditioning step give the FT4 unsurpassed reproducibility and accuracy, maximising its ability to differentiate between samples. It can therefore be used to accurately quantify the impact on powder behaviour of a range of factors including aeration, segregation, consolidation and composition. www.freemantech.co.uk

About Freeman Technology

Freeman Technology is a specialist company pioneering the measurement and understanding of powders and their flow properties. Founded in 1989, the company developed the novel, patented technology that forms the core of its Powder Rheometer system at its design and manufacturing centre near Malvern in Worcestershire, UK where all manufacturing takes place in an ISO 9001:2000 accredited environment. The FT4 Powder Rheometer is a universal powder tester that provides three complementary approaches in a single instrument: measurement of bulk properties including permeability, bulk density and compressability; shear property determination with automated shear cells; and dynamic flowability using patented methodology. In April 2007 the company received the Queen's Award for Enterprise in Innovation.

Freeman systems are installed around the world in a diverse range of industries. Applications range from optimising new formulations and improving the efficiency of manufacturing processes to the establishment of QC criteria for raw materials, intermediates and final product. www.freemantech.co.uk

Please send enquiries to:
Reg Freeman
Freeman Technology
Boulters Farm Centre
Castlemorton Common
Welland
Worcestershire
UK
WR13 6LE
Tel: +44 (0) 1684 310860
Fax: +44 (0) 1684 310236
Email: info@freemantech.co.uk
www.freemantech.co.uk


More from Controls & Controllers