Shave Tool Holder fights chatter.
Press Release Summary: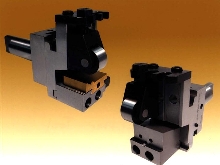 Ultimate G Style shave tool holder has dovetail float mechanism, hardened and ground dovetail slide, and tapered gib. Dovetail float mechanism, with more bearing surface than original pin style holders, reduces chatter. Holder has replaceable tool post that can be removed without having to remove shave tool holder or altering setup at machine. Tool posts are available for standard dovetail tools or HSS and super carbide insert type tools.
---
Original Press Release:
Schlitter Tool Introduces New "Chatter Free" Gib Style Floating Shave Tool Holder with Removable Tool Post

The floating pin-style shave tool holder introduced by Schlitter Tool nearly seventy years ago still remains the best selling shave tool holder for screw machines. However, the original pin style floating mechanism has limited ability in countering the machining conditions that may induce "chatter". While skilled operators have developed some makeshift fixes to reduce chatter, none has proven to be reliable and some may even reduce chatter at the expense of accuracy.

For this reason, Schlitter Tool has introduced the new, patent pending, "Ultimate G Style" shaving system that fights chatter and provides the user with more advanced options in tooling selection. The new shave tool holder has a dovetail float mechanism that features a hardened and ground dovetail slide with a tapered gib. This highly-accurate dovetail float mechanism has from eight to ten times the bearing surface of the original pin style holders which actively fights chatter while providing an exceptionally smooth floating action over the part. The gib is adjustable with a single screw and cannot be misaligned.

A key feature on the new "G Style" shaving system is the replaceable tool post. The tool post can be removed without having to remove the shave tool holder or altering the setup at the machine. The tool posts are available for standard dovetail tools or for more advanced HSS and super carbide insert type tools.

One user is reporting that they have used a new Schlitter "G Style" shave holder with carbide inserts on a part that has always showed chatter and found that the chatter marks have been completely eliminated and the surface finish improved from 45Ra to 9 Ra. Tool life was improved from 6,000 pieces per edge to over 60,000 pieces per edge. The user also reports that no adjustments to the shave tool holder have been required on the machine that has been running two shifts-a-day for over three months.

The new "G Style" shave tool holders use standard replacement parts, offsets, adjustments and adapter blocks and are available in seven capacities from 0 to 2-1/4-inches. New designs specifically for Davenport machines will be available with the year.

Schlitter provides complete design and manufacture for dovetail cutting tools as well as the special pre-formed rectangular and triangular cutting tool inserts that can be used in shaving or forming. The inserts are produced from specially engineered super carbide and super high-speed-steel engineered for maximum performance on screw machines. The holders are available direct from Schlitter or through their distributor network.

Schlitter Tool Inc. is a designer and manufacturer of tooling and tool holders for automatics, chuckers, screw machines and CNC lathes. Schlitter Tool has over 6,000 original tool designs and holds numerous patents. Products include: a complete range of forming, shaving, knurling, skiving, boring, burnishing and recessing tool holders; recess milling attachments; the Hexmaster® internal hex shaping tool; dovetail tooling and insert style tooling and holders for both screw machines and CNC lathes.

Send Inquiries to:

Dave Schlitter

Schlitter Tool Inc.

27450 Gloede Drive

Warren, Michigan 48088

Tel: 586-771-5700

Fax: 586-771-8190

Email: Schlitters@aol.com

More from Chemicals & Gases