Vision and Imaging Sensors / Detectors
SharpEye 40/40 Series Receive FM Approval for Use in Hazardous Locations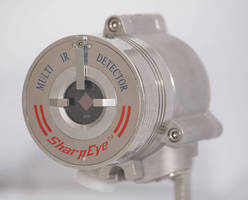 Cedar Grove, NJ (February 6, 2009) - The new explosion-proof SharpEye 40/40 Optical Flame Detector series have been tested by FM Approvals (project ID 3029553) and received the official approval for use in hazardous (classified) locations in the US and Canada. The entire line of optical flame detectors will be listed in the Factory Mutual Approval Guide on their Online Publication of FM Approvals.

The new SharpEye 40/40 series flame detectors provide the most comprehensive protection against hydrocarbon-based and water vapors combustion products types of fuel and gas fires, with several models that feature enhanced sensitivity to ethanol and other alcohol derivates that serve as new alternative fuels and bio-fuels.

The 40/40 Series includes the full range of IR, UV, UV/IR, IR3 and Multi-spectral flame detectors that provide superior performance with high reliability and immunity to false activation. The specific model 40/40M detects hydrogen flames as well as hydrocarbon flames using the same detector.

With sealed electronics to protect the integrity of the unit when opened for installation or maintenance, a heated window to prevent condensation in the humid environments, and HART capabilities for digital communications, the 40/40 series provide fast and reliable fire detection.

Each detector operates from 18 to 32 V dc via connection to a compatible, FM-Approved fire alarm control providing separate circuits for alarm signaling and for power. Fuels tested for response include: Gasoline, N-Heptane, Diesel, JP5, Kerosene, Ethyl alcohol (95%), IPA, Methanol, Methane, LPG, Polypropylene and Paper. Detectors' operating temperature is -40ºC to 85ºC (-40ºF to 185ºF). Hazardous (Classified) Location rating: Explosion-proof for Class I, Division 1, Groups B, C and D, T5 Ta = 85ºC; DIP/II, III/1/EFG/T5 Ta = 85ºC; Type 6P, IP66, IP67.

Due to increased reliability, the 40/40 Series warranty period has been extended to 5 years and approved to IEC 61508 Safety Integrity requirements of SIL2. In addition to the recent FM approval, the 40/40 series are also approved for Hazardous Areas per ATEX/IECEx/CSA for location in zone I areas and 3rd party Performance approved per EN54-10 and DNV.

About Spectrex Inc.

For over 25 years, Spectrex Inc. has been providing the market with the best detection and suppression systems and products that meet the highest customers' requirements for reliability, quality and operation in extremely tough environments.

Spectrex's competitive edge is based on its innovative capabilities and its unique technologies that are protected by more than 20 diverse international patents, including UV/IR and IR3 Optical Flame Detection, Flash-Type Open Path Gas Detection, EMF and SFE novel fire suppression technologies.

For more information about Spectrex Inc. and its products, visit www.spectrex-inc.com, or contact Eric Zinn at +1(973) 239-8398 or +1(800) 452-2107 (Toll free within the US only).

More from Electronic Components & Devices