SFF Stamped Contact features life cycle of 3,000 operations.
Press Release Summary: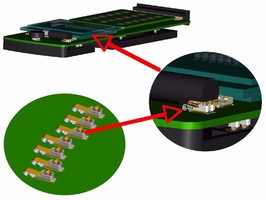 Designed for solderless component interconnection where miniaturization, reliability, and flexibility are required, Universal Contact addresses problem of uneven spring forces and poor contact resistance of connectors in portable devices. Pre-loading and anti-lift design optimizes contact force, while X-Y-Z movement capability maintains stable connection. Contact heights range from 1.3-4.0 mm (free height), and compressed heights as low as 0.9 mm are also available.
---
Original Press Release:

ITT's Universal Contact Provides Extended Life Cycles in Portable Electronics Applications



Miniature robust contact ensures consistent, reliable contact integrity...

SANTA ANA, Calif. - May 28, 2008 - ITT Interconnect Solutions, a leading global manufacturer and supplier of connectors, interconnects, and cable assemblies, has developed a small form factor, stamped contact known as the Universal Contact. The contact is ideal for solderless component interconnection where miniaturization, reliability and flexibility are required. A unique pre-loading and anti-lift design maximizes contact force to ensure consistent and reliable contact integrity, while the contact's X-Y-Z movement ability provides a robust connection between the contact and component assembly.

"The Universal Contact was developed in response to customer requests to address the problem of uneven spring forces and poor contact resistance of connectors in mobile phone components," said Keith Teichmann, director of marketing for ITT Interconnect Solutions. "Miniaturization of the end product and reliable, robust interconnects continue to play a large role in portable devices, and the design of the Universal Contact allows it to meet those needs."

The Universal Contact features an extended life cycle of 3000 operations, making it suitable for a variety of applications including handset and wireless handheld devices, PC card products, home electronic devices, medical products and automotive telematic systems.

Compliant with WEEE and RoHS directives, the Universal Contact is available in contact heights ranging from 1.3mm to 4.0mm free height. Compressed heights as low as 0.9mm are also available.

"Side wings" protect the active parts of the contact and prevent the contact from overstressing, while dome contact points provide good hertz stress and low contact resistance. The Universal Contact aids designers by allowing freedom of board positioning and providing minimized qualification time and a standard interface across applications and platforms.

Pricing for the Universal Contact varies depending upon specifications.
Lead time is from 4 to 6 weeks.

About ITT Interconnect Solutions
ITT Interconnect Solutions is an international manufacturer and supplier of connectors including circular, rectangular, fiber optic, RF, power and high voltage, audio, PCMCIA, Compact Flash Card, enclosures, cable assemblies, and application specific custom solutions. The Interconnect Solutions portfolio includes the brands Cannon, VEAM, and BIW. For more information on ITT Interconnect Solutions and an archive of its press releases, please visit www.ittcannon.com.

About ITT
ITT Corporation supplies advanced technology products and services in several growth markets. ITT is a global leader in the transport, treatment and control of water, wastewater and other fluids. The company plays a vital role in international security through its defense communications and electronics products; space surveillance and intelligence systems; and advanced engineering and related services. It also serves the growing leisure marine and electronic components markets with a wide range of products. Headquartered in White Plains, NY, the company generated $7.8 billion in 2006 sales.

Leads Contact:
Nas Hashemian
ITT Interconnect Solutions
666 East Dyer Road
Santa Ana, CA 92705
Tel.: +714-628-8370
Fax: +714-628-2249
Email: nas.hashemian@itt.com
Web: www.ittcannon.com

More from Material Handling & Storage