Sewage Grinder handles flow rates to 14 MGD.
Press Release Summary: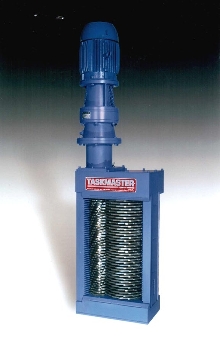 TASKMASTER TITAN provides high capacity grinding with low headloss. It employs twin shaft grinding, where one cutter stack intermeshes with disks. As wastewater enters, it is confronted with wall of cutters which are impossible to avoid or bypass. Solids are finely ground by shear forces of close fitting intermeshing cutters while liquids pass through unit unobstructed. It reduces solids such as sneakers, wood, rags, paper, mops and bottles.
---
Original Press Release:

Taskmaster(R) Titan(TM) Unique Hi-Flow Twin Shaft Channel Grinder


The TASKMASTER TITAN provides remarkable channel grinding performance, high capacity and low headloss. This unit's innovative design employs twin shaft grinding, but unlike previous grinders, one cutter stack intermeshes with unique TITAN disks for a substantial improvement in capacity and performance.

As wastewater enters the TASKMASTER TITAN it is confronted with a massive wall of cutters which are impossible to avoid or bypass. The solids are finely ground by the shear forces of the close fitting intermeshing cutters and, unlike in previous twin shaft grinders, the liquids pass through the unit unobstructed. In fact, the TITAN is the first twin shaft grinder with a design which is intrinsically open for flow to freely pass with low headloss.

The TITAN's entire 14" wide input area has active cutting. No screens or plastic diverters are needed. With its massive array of cutting edges, cutter life and unit strength are enhanced. Because its active cutting area is larger, the unit has improved feeding of large, bulky or round objects. The TITAN is provided with tungsten carbide mechanical seal protection on all shafts.

While other channel grinders require three or more shafts to match the TM 14000's flow capacity, this unit's innovative twin shaft design handles flow rates of up to 14 mgd. The TITAN produces a finely ground output for excellent protection of pumps, filter presses and other downstream equipment. This unit reduces such solids as sneakers, wood, rags, paper, mops and bottles and more. With its unique operating principle and powerful performance, the TASKMASTER TITAN can also be used as a highly efficient solid waste shredder.


More from Communication Systems & Equipment