Severn Trent Services-Apliclor Installs Spain's First UV-Chlorine Dioxide Disinfection System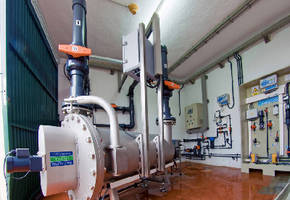 Severn Trent Services-Apliclor Installs Spain's First Combined UV-Chlorine Dioxide Disinfection Treatment System at Wastewater Reuse Plant in Reus

The plant utilizes MicroDynamics® microwave UV technology and Aquadiox® chlorine dioxide generators.

BARCELONA, Spain - Severn Trent Services-Apliclor has installed Spain's first-ever combined ultraviolet and chlorine dioxide disinfection treatment at a wastewater treatment plant in Reus, Spain - a site operated by the municipal water company Aigues de Reus Empresa Municipal. The disinfection system uses MicroDynamics® microwave ultraviolet (UV) technology combined with Aquadiox® chlorine dioxide generators to provide effective and cost-efficient treatment of wastewater for variety of reuse applications, reducing the plant's effluent discharge volume. The plant, which serves the wastewater treatment needs of communities in the province of Tarragona, has a treatment capacity of 25,000 m3/day.

The MicroDynamics system uses microwave energy to energize UV lamps, generating consistent-strength disinfection. The system offers extended bulb life and reliability, operating cost savings and health and safety benefits for employees on site due to its unique design. The MicroDynamics system uses the MicroPace control system for real-time flow pacing, thereby reducing energy requirements and delivering cost efficiencies.

The Aquadiox chlorine dioxide generator will produce chlorine dioxide on site to provide residual disinfection, preventing bacteria from forming in the plant's distribution network. This alternative disinfection method uses sodium chlorite and hydrochloric acid to generate the chlorine dioxide solution. One of the benefits of using chlorine dioxide disinfection is that it reacts less with organic matter present in the distribution network, thus eliminating odors and minimizing the formation of Trihalomethanes.

According to the general manager of Severn Trent Services-Apliclor, Rick Bacon, "The innovative microwave UV technology has been recognized for advancing the state of the art in wastewater treatment. The MicroDynamics system combined with the chlorine dioxide generators will provide assurance for users that all water in the Reus network - including the water in the pipes and at the point of use - is treated safely."

About Severn Trent Services

Severn Trent Services (www.severntrentservices.com), with global headquarters in Fort Washington, Pa., USA, is a leading supplier of water and wastewater solutions. The company's broad range of products and services is concentrated around disinfection, instrumentation and filtration technologies, and contract operating services. Our analytical services group is the United Kingdom's leading environmental testing organization, and our international operating services business provides worldwide contract operation and support for all aspects of water and wastewater utility operational development and business transformation. Severn Trent Services is a member of the Severn Trent Plc (London: SVT.L) group of companies. Severn Trent is a FTSE 100 company.

In Spain, Severn Trent Services-Apliclor has nearly 100 years experience in the treatment of water and has been a part of Severn Trent Services since 2009. The company's headquarters is in Sant Marti Sesgueioles (Barcelona) in a 19,000m2 facility. The technical division designs installations for the treatment of water and carries out the maintenance of these plants, while the chemical division sells products for the purification and maintenance of swimming pools.

To access the latest news from Severn Trent Services, please visit our Press Room.


More from Cleaning Products & Equipment