Seven Low VOC Rust Preventative Options Available from Birchwood Casey - See at www.birchwoodcasey.com/rust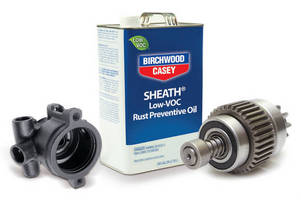 Eden Prairie, Minnesota: Birchwood Casey now offers seven different rust preventative products that are compliant with current VOC (volatile organic compound) regulations, recently enacted in several states.

Referencing an online, easy-to-read chart, manufacturers can quickly choose from seven VOC compliant corrosion inhibitors and sealants to prevent rust and corrosion on all metal surfaces. The chart aids in selecting according to needs for protection, lubricity, dryness and decorative appeal. They meet all VOC regulations for industrial applications enacted by air quality boards in several states.

The different product formulations allow for variables such as the type of metal surface to be coated, level of protection needed, and conditions of exposure in handling, shipping and storage. Special considerations such as removability and post-treatment operations should be considered in the selection of the correct product.

"The trend toward greater VOC regulation means that manufacturers must change processes to comply," reports Mark Ruhland, vice president of Birchwood Casey. "Our seven different low VOC rust preventatives gives manufacturers quality products that provide rust and corrosion protection while meeting the new regulations. We are pleased to do our part in providing greener manufacturing practices."

Three Solvent-Based Low VOC Products Offer Up To 120 Hours Salt Spray Protection Birchwood Casey's three solvent-based, VOC compliant products provide robust protection for various metal surfaces, including raw steel/castings, in-process parts, tooling components in storage, or finished products in warehouse storage or overseas shipment. Rust inhibitors are graded based on their performance in ASTM B117 Salt Spray Testing and/or ASTM D1748 Humidity Testing. Depending on the rust inhibitor selected, the user can achieve protective coatings with either a slightly oily water-displacing film, or a dry-to-touch, non-oily sealant, or a soft-waxy, self-healing film. These three products all have a high flash point of around 250°F, and are safe to use in all plant settings, even in heat treat departments or areas with gas-fired space heating equipment.

Four Water-Based Products Offer Up To 48 Hours Salt Spray Protection

Following similar ASTM grading, Birchwood Casey's four aqueous products provide a wide range of protection levels and surface appearance. These products include a waterdilutable oil, a satin-gloss acrylic wax, a high-gloss urethane polymer sealant, and a high-gloss acrylic polymer emulsion. These aqueous products have zero VOC content and no flash point.

Widely used on tooling, motion control components, automotive parts, and in many other applications, all seven Birchwood Casey low VOC products are available in 5 gallon and 55 gallon quantities and may be ordered online.

For detailed technical information, go to www.birchwoodcasey.com or speak directly with
a Birchwood Casey technical service expert at 952-937-7931. Email: info@birchwoodcasey.com

Or write to Birchwood Casey, 7900 Fuller Road, Eden Prairie, Minnesota 55344-9702. Fax: 952-937-7979.


More from Agricultural & Farming Products