ServoClass® Couplings Come with Corrosion Resistant Socket Head Cap Screws
Press Release Summary: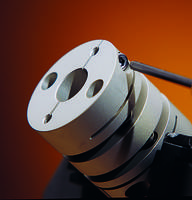 Zero-Max's ServoClass® Couplings are available in single and double flex models for bore diameters 10mm to 30 mm. These units provide zero backlash and features 304 stainless steel disc packs and clamp-style hubs. The Couplings can mount on k6 and j6 shafts and are suitable for applications such as automation, packaging, semi-conductor assembly, laboratory automation and medical equipment. Compliant to RoHS standards, units are used for handling high speed reversing loads.
---
Original Press Release:
ServoClass® Couplings from Zero-Max® are Now Available with Hubs for k6 and j6 Shafts – These Couplings Provide High Torsional Stiffness and Low Inertia, Preventing Positioning Errors
Plymouth, Minnesota: ServoClass® Couplings in both Single and Double Flex models are now available with hubs for k6 and j6 shafts. These couplings from Zero-Max provide high torsional stiffness and are designed to handle high speed reversing loads and precise positioning requirements in today's demanding servomotor applications.
The Single and Double Flex ServoClass models handle bore diameters from .375 in. (10mm) to 1.125 in. (30 mm). These couplings are lightweight with 304 stainless steel disc packs, high strength aluminum hubs and center members. All models and sizes feature clamp-style hubs with corrosion resistant socket head cap screws. All materials are RoHS compliant.
ServoClass Couplings provide zero-backlash, have an elegant, yet robust design, require no maintenance and are quick and easy to install.
With the ability to mount on k6 and j6 shafts, Zero-Max ServoClass couplings are a better choice over beam or bellow's style couplings. They have a sleek, elegant and robust design that performs reliably in 24/7 servomotor applications. They reduce shock loads and prevent positioning errors. When the application cycle becomes faster, they outperform beam couplings, which are subject to torsional wind up, and bellows couplings, which have a fragile design. Proof of their superiority is in their operating specifications available online.
There are nineteen sizes of standard off-the-shelf ServoClass Couplings. These couplings are ideal for clean room applications in automation, packaging, semi-conductor assembly, laboratory automation, medical equipment and for most products that use ball screws and servomotors.
For complete operating specifications, 3D CAD files, sizing software, and dimensional information, see at www.zero-max.com
 Email: sales@zero-max.com Or call 1-800-533-1731 for FREE brochure. Outside US and Canada call 763-546-4300. Zero-Max at 13200 Sixth Avenue North, Plymouth, Minnesota 55441-5509. Fax: 763-546-8260. 
Anderson-Madison Advertising, Inc.
4600 West 77th Street, Suite 335
Edina, Minnesota 55435
952-835-5133
Email: jm@andersonmadison.com
CONTACT:  Gerald F. Madison
More from Sensors, Monitors & Transducers