Servo Motor helps troubleshoot problems.
Press Release Summary: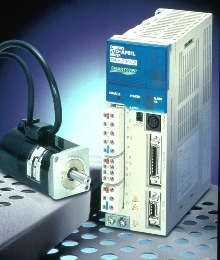 Smartstep servo motor provides constant torque through entire speed range and has autotune function that makes motor tuning easier. Installation is simple and quick with pre-fabricated cables that connect motor to company's position control modules. Pulse command input allows seamless upgrades from existing stepper systems. It assists in troubleshooting and maintenance when it has technical problem by displaying alarm number that indicates what caused fault.
---
Original Press Release:

Omron's Smartstep Servo Motor And Drive Can Be Quickly Installed And Configured


SCHAUMBURG, IL (March 18, 2002)-Users are able to get the new Omron Smartstep servo motor and drive up and running quickly and easily by simply plugging it in and setting the rotary and DIP switches on the front panel. The Smartstep's autotune function makes motor tuning nearly effortless. Its installation is also made simple and quick with pre-fabricated cables to connect the Smartstep to Omron position control modules. The Smartstep's single phase power input allows for flexibility since installation doesn't require the more tedious and less available three phase power. The Smartstep assists in troubleshooting and maintenance. If it has a technical problem, the Smartstep will display an alarm number that indicates what caused the fault.

The Smartstep provides a low cost, high function servo solution. Its pulse command input allows seamless upgrades from existing stepper systems. The Smartstep provides greater reliability than steppers with continuous feedback loops, so users can be assured of quick and accurate movements. It features constant torque through its entire speed range, which means more power is available whether it is moving fast or slow. In addition, its available momentary torque is three times its continuous torque, which prevents slipping from high, instantaneous loading.

The Smartstep is ideal for industries like packaging, semiconductor, materials handling and assembly. Sample position and speed control applications that the Smartstep can be used in include conveying, electronic gearing, labeling, pick and place, indexing and winding.

To provide savings cost, the Smartstep does not feature non-essential functions. Omron's economical Smartstep motors and drives start at $960 and are available from stock. For further information, contact: Omron Electronics LLC, 1 Commerce Drive, Schaumburg, IL 60173. Tel.: 800-55-OMRON. Fax: 847-843-8081. Internet: info.omron.com.

Omron Electronics LLC is a leading manufacturer and provider of industrial automation and electronic component products and solutions. Offering complete automation connectivity, extensive product groups include programmable controllers, sensors, operator interfaces, timers, counters, servo motors and drives, software, switches and relays. Omron also provides system integration services and offers data collection, inspection systems, motion systems and automation systems services and products. Omron Electronics LLC is the Western Hemisphere subsidiary of Omron Corporation, a $5 billion global leading supplier of reliable, advanced electronics and control system components and services.

More from Electrical Equipment & Systems