Servo Motor Firmware simplifies spooling and winding.
Press Release Summary: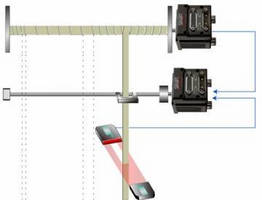 With commands in Class 5 SmartMotor firmware, material of changing width can be wound onto spool without gaps or unwanted overlap in wind pattern. Firmware offers both relative and absolute position control for setting traverse points, spool widths, dwell points, and more. Ability to dynamically phase-adjust incoming master signals enables real-time offsets for variations in material width without sacrificing positioning accuracy at traverse point.
---
Original Press Release:

Spooling Simplified with SmartMotor(TM) Commands Created for the Winding Industry



Santa Clara, Calif. -- Moog Animatics, a division of Moog Inc., has released a firmware upgrade to their Class 5 SmartMotor (fully integrated servo motor) product line featuring innovative capabilities to simplify spooling and winding applications. With the new SmartMotor commands, material of changing width can be wound onto a spool without gaps or unwanted overlap in the wind pattern.



Spooling is the most effective way to conveniently package materials of exceptionally long length such as thread, film, wire and thermoplastics. Typically, the spooling material is fed at a certain rate while a guide traverses the material back and forth corresponding to a desired pattern. The position accuracy of a traversing guide is best maintained when it is linked to the rotational velocity of the winding spool. The SmartMotor's new firmware offers commands dedicated to solving the pain of programming a motion control system for complicated winding patterns.



"Our latest firmware is custom tailored to the winding industry. We offer both relative and absolute position control for setting traverse points, spool widths, dwell points and more. Knowing the challenges of winding applications, we added the ability to dynamically phase-adjust incoming master signals," says Hack Summer, Applications Technology Manager at Moog Animatics.  "This enables real-time offsets for variations in material width without sacrificing positioning accuracy at the traverse point and allows for a complete, precise fill of material with no gaps or overlays."



Example of a tapered wind pattern onto a cylindrical core.

Previous industry solutions required dynamically changing the electronic gear ratio of the traversing motor or offsetting its traverse speed on the fly. However by utilizing a sensor to feed back material width information to the SmartMotor, the effective gear ratio can be dynamically compensated within the SmartMotor to ensure there are no gaps in the material wound onto the spool and without compromising traverse endpoint locations.



Moog Animatics a global leader in integrated motion control. Located in the heart of Silicon Valley, Moog Animatics designs, manufactures, and markets motion control products and systems, and has over 25 years in the motion control industry. Animatics was acquired by Moog Inc. in May, 2011.



Moog Inc. is a worldwide designer, manufacturer, and integrator of precision control components and systems. Moog's high-performance systems control military and commercial aircraft, satellites and space vehicles, launch vehicles, missiles, automated industrial machinery, wind energy, marine and medical equipment. Additional information about the company can be found at www.moog.com.



Contact

Melissa Junge

(408) 748-8721 x3331

mjunge@moog.animatics.com

More from Fluid & Gas Flow Equipment