Servo Driven Catheter Pad Printer targets medical device industry.
Press Release Summary: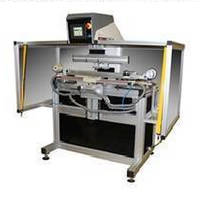 Capable of marking multiple sized catheters, syringes, and tubes, programmable and automated KP08 Servo stores up to 100 programs for different product configurations and can maintain multiple artworks on single cliché, Single or dual cupslide cliché support of up to 1,800 mm (1,600 mm image area) is available for full length printing, and speed and distance of cupslide are adjustable. Automation of Z and Y axis servo drives ensures repeatability and complete process control.
---
Original Press Release:

EPS Targets Medical Device Industry with 360° Servo Driven Catheter Pad Printer



Engineered Printing Solutions of East Dorset, Vermont continues to be a proven leader in industrial pad printing with the recent arrival of the KP08 Servo Driven Catheter Pad Printer. This fully programmable, automated pad printer is designed primarily for medical device manufacturers interested in a single printer capable of marking multiple sized catheters, syringes and various sized tubes. The KP08 Servo is capable of storing up to 100 programs for different product configurations and has the ability to maintain multiple artworks on a single cliché. It can be equipped with a single or dual cupslide cliché support of up to 1800mm (1600mm image area) for full length printing. Speed and distance of the cupslide are adjustable, which is useful for printing different length artworks without any special (or time consuming) set-ups.



Automation enhancements include both Z and Y axis servo drives, which ensures repeatability, giving you full control of your process. The Z axis manages vertical stroke, allowing for print of tubes (extrusion) of varied diameter (French units). This feature eliminates the need to manually reset table height each time a different diameter tube is set up. The Y axis servo manages front to back stroke, eliminating the need for a rolling table. The pads are mounted on a dovetail slide to allow for easy adjustment, as well as quick changeover of the pads.



In addition, the programmability of the Y axis allows for selecting one of multiple images for use in production. During printing, a vacuum control provides the suction needed to hold each tube in place based on diameter and length.



Complete with HMI touch screen control and Ethernet-based Internet access for remote servicing, the KP08 Servo is a fast, efficient and flexible solution for 360° printing. Proven to reduce setup time by as much as 90% and increase production speed by at least 15%, this automated pad printer is one you'll want to see in action for yourself.



For information about Engineered Printing Solutions custom solutions, standard pad printers, industrial inkjet, consumables and other auxiliary equipment, visit www.epsvt.com, email info@epsvt.com or call 1-800-272-7764.



Contact:

Scott Einsig

Director of Business Development

Engineered Printing Solutions

201 Tennis Way

East Dorset, VT 05253

seinsig@epsvt.com

800-272-7764 ext. 275

Related