Service System provides hydraulic brake maintenance.
Press Release Summary: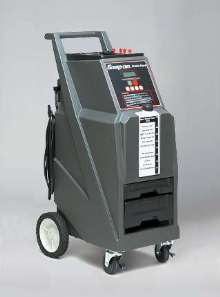 BrakeKare(TM) EEBR311A combines pressure and vacuum flushing, while allowing simultaneous fluid refilling of all 4 wheels in 10-12 minutes. Once system is connected to master cylinder and 4 bleeder valves, it automatically performs cleaning and diagnostic functions and supplies new brake fluid. Electronic control panel guides operator through step-by-step process. System is contained in wheeled cabinet and operates on standard 110 or 220 Vac power.
---
Original Press Release:
New BrakeKare(TM) System from Snap-on Provides Easy, Comprehensive Hydraulic Brake Maintenance
All-in-one unit quickly handles all aspects of hydraulic brake fluid service KENOSHA, WIS., June 9, 2004 -- The new BrakeKare(TM) system (EEBR311A) from Snap-on Tools Company provides automotive service shops with a comprehensive, safe, quick and easy solution for hydraulic brake system maintenance and diagnostics. The unit features an exclusive combination of pressure and vacuum flushing, while also allowing simultaneous fluid refilling of all four wheels in just 10 to 12 minutes. The BrakeKare brake fluid service system represents increased profitability for shops already providing brake service, as well as high-margin add-on business for quick lubes, mass merchants, national service chains, auto dealerships and general repair shops. Car owners will enjoy safer brake system performance (e.g., preventing pedal fade or brake failure), extended brake system life and more comprehensive diagnosis of undetected brake system problems. The fully automatic unit flushes and cleans the entire hydraulic braking system. Once the BrakeKare unit is connected to the master cylinder reservoir and all four-wheel cylinder bleeder valves, the system automatically performs the cleaning and diagnostic functions with new brake fluid. The automatic process allows for contamination-free brake fluid service. An electronic control panel guides the operator through a step-by-step process, ensuring efficient use of the BrakeKare system. Color-coded test strips are included with the unit and enable quick and accurate fluid diagnosis. Contained in a compact wheeled cabinet for easy movement around the shop, the BrakeKare system includes a 64-oz. container for new fluids, a four-gallon waste fluid container, adapter-storage drawers, a flat work surface at an ergonomically convenient height, and a full complement of EPDM hoses for filling, vacuuming, bleeding and disposing of brake fluids. The unit operates on standard 110- or 220-volt AC power. Standard hose adapters cover most domestic and import passenger and light trucks. Deluxe adapters are available for select Asian, European and domestic applications. While the BrakeKare system's primary use is for hydraulic brake applications, the unit can also be used for hydraulic clutch service. The BrakeKare system is part of Snap-on's family of fluid maintenance equipment that also includes the company's OilKare, TransKare and FuelKare systems. Customers can find out more about the EEBR311A BrakeKare fluid service system from Snap-on Tools Company by contacting their local Snap-on representative, visiting www.snap-on.com or calling toll free 877-SNAPON-2 (877-762-7662). Snap-on Tools Company is a subsidiary of Snap-on Incorporated, a leading global developer, manufacturer and marketer of tool and equipment solutions for professional tool users. Product lines include hand and power tools, diagnostics and shop equipment, tool storage products, diagnostics software and other solutions for transportation service, industrial, government, education, agricultural and other commercial applications, including construction and electrical. Products are sold through its franchisee dealer vans, distributor channels and company direct sales, including snapon.com. Founded in 1920, Snap-on Tools is a $2+ billion, S&P 500 company headquartered in Kenosha, Wis., and employs approximately 12,700 worldwide.
More from Test & Measurement