Servers provide up to 2.8 GHz processing power.
Press Release Summary: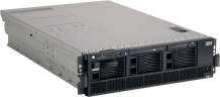 The xSeries 365 Servers incorporate Xeon MP processors, up to 32 GB of high-speed PC2100 ECC DDR SDRAM system memory, and 6 active 64-bit PCI and PCI-X slots. Chipkill(TM) ECC memory controller helps correct single-, 2-, 3-, and 4-bit memory errors. Hot-swap drive bays and redundant fans replace select components without powering down server. Units include dual Gigabyte Ethernet and dual-channel Ultra320 SCSI controllers, and 1 or 2 hot-swap redundant power supplies.
---
Original Press Release:

IBM eserver xSeries 365 servers - Up to 2.8 GHz Processing Power Ready for Next-Generation e-business


At a glance
New xSeries 365 servers incorporate high-performance Xeon MP processors.
oUp to 32 GB of high-speed PC2100 ECC DDR SDRAM system memory
oSix Active 64-bit PCI and PCI-X slots:
-One slot at 33 MHz (PCI) (occupied by the Remote Supervisor Adapter II)
-One slot at 100 MHz (PCI-X)
-Four slots at 133 MHz (PCI-X)
oMassive I/O expansion; XpandOnDemand scalability supporting up to 12 additional PCI-X slots with optionally available RXE-100 oRemote Expansion Enclosure
oDual Channel integrated Ultra320 SCSI and Dual Channel Gigabit Ethernet controllers
oSix hot-swap bays for flexible installation of HDDs, supporting up to 878.4 GB internal data storage
oStandard Remote Supervisor Adapter II, enabling remote, full-band systems management
oOne or two 950-watt, voltage sensing, hot-swap power supplies
oDiskette drive and 24x-10x CD-ROM
oThree USB ports, SVGA video port, mouse port, and keyboard port

For ordering, contact:
Your IBM representative, an IBM Business Partner, or IBM Americas Call Centers at 800-IBM-CALL (Reference: SE001).

Overview
Models of the xSeries® 365 server are powered with Intel(TM) Xeon MP processors at up to 2.8 GHz and with up to 2 MB L3 cache.

The xSeries 365 server contains advanced technology that combines four-way SMP-capable power, Peripheral Component Interconnect-X (PCI-X) expansion, Enterprise X-Architecture(TM), high availability, scalability, and substantial internal data storage capacity.

Power and scalability for e-business growth

Models based on 2, 2.5, or 2.8 GHz Xeon MP processors with quad-pumped 400 MHz front-side bus and full-speed 1 or 2 MB ECC L3 cache standard

1 or 2 GB of high-speed PC2100 double data rate (DDR) memory; 32 GB maximum

Six standard 64-bit PCI-X slots; RXE port supporting 12 additional 64-bit slots with the optional RXE-100 Remote Expansion Enclosure

High-performance, integrated dual Gigabyte Ethernet and dual-channel Ultra320 SCSI (up to 320 MB/s) controllers

Enterprise X-Architecture features for around-the-clock e-business

Advanced third-generation Chipkill(TM) ECC memory controller to help correct single-, two-, three-, and four-bit memory errors

Memory ProteXion and memory mirroring supported on the 16 DIMM memory card

Active PCI slots, hot-add and hot-swap adapters

Hot-swap drive bays and redundant fans to replace select components without powering down the server

One or two hot-swap, redundant power supplies

Predictive Failure Analysis® (PFA) on processors, voltage regulator modules (VRMs), memory, fans, power supply, and HDD options to help warn of problems before they occur

Integrated Remote Supervisor Adapter II, supporting out-of-band systems management and remote POST, setup, and diagnostics

Innovative Light Path Diagnostics and top access design; easy to service and configure

Service and support perfected for e-business

ServerGuide(TM) and IBM Director

ServerProven® compatibility testing and Web support

One- or three-year on-site limited warranty depending on machine type

Key prerequisites
Monitor, keyboard, and mouse
SCSI HDD
Rack

Planned availability date
December 15, 2003

More from Sensors, Monitors & Transducers