Servers offer scalable solutions to on-demand requirements.
Press Release Summary: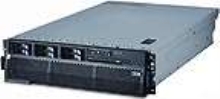 Powered by up to 3.33 GHz Intel(TM) Xeon MP processors with 8 MB L3 cache, xSeries® 460 server combines scalable SMP-capable power, PCI-X expansion, and 3G Enterprise X-Architecture(TM). It supports simultaneous 32- and 64-bit applications with x86-64-bit extensions and features up to 512 GB PC2-3200 ECC DDR2 SDRAM system memory. Other features include integrated Ethernet and six 2.5 in. hot-swap bays for HDDs that support up to 440.4 GB internal data storage.
---
Original Press Release:

IBM xSeries 460 servers - XpandOnDemand with eServer x3 Architecture


At a glance

New xSeries 460 servers incorporate high-performance Xeon MP processors:

Intel Xeon MP up to 3.33GHz/8MB L3 Cache

Up to 512 GB of high-speed PC2-3200 ECC DDR2 SDRAM system memory

Six Active 64-bit/266 MHz PCI-X 2.0 slots

SAS controller

Integrated Broadcom 5704 Dual-port 10/100/1000 Gigabit Ethernet

Six 2.5 inch hot-swap bays for flexible installation of HDDs, supporting up to 440.4 GB1 internal data storage

Standard Remote Supervisor Adapter II Slimline, enabling remote, full-band systems management

Two 1,300-watt, voltage sensing, hot-swap power supplies

Standard DVD-ROM

Three USB ports, SVGA video port, mouse port, two serial ports, two Gb Ethernet ports, and one keyboard port per chassis

Service and support perfected for e-business

IBM Director

ServerGuide(TM)

UpdateXpress

Dynamic Systems Analysis

ServerProven® compatibility testing and Web support

Three-year on-site2 limited warranty3

For ordering, contact:
Your IBM representative, an IBM Business Partner, or IBM Americas Call Centers at 800-IBM-CALL (Reference: YE001).

Overview

Models of the xSeries® 460 server are powered with Intel(TM) Xeon MP processors at up to 3.33 GHz / 8 MB L3.

The xSeries 460 server contains advanced technology that combines scalable SMP-capable power, Peripheral Component Interconnect-X (PCI-X) expansion, third-generation Enterprise X-Architecture(TM) (EXA), high availability, scalability, and substantial internal data storage capacity.

With the power of third-generation EXA, the x460 establishes a new standard in the market for modular XpandOnDemand scalability with:

Increased performance

Memory availability

System manageability

Simultaneous support for 32-bit and 64-bit applications with x86-64-bit extensions

The xSeries MXE-460 server, functionally identical to the xSeries 460 server, supports the same hardware configurations. However, it is supported only as an expansion module to a base xSeries 460 and not in a stand-alone configuration. It comes configured with two empty 4-slot Memory Expansion Cards (13M7409) and two power supplies as standard, but without any processors, memory, disks, or optical drive.

In addition to processors and memory, the six disk bays and six PCI-X I/O card slots in each chassis allow you to add up to a total of 48 hard disks and 48 I/O slots into a 32-way configuration, eliminating the need for an external I/O expansion enclosure.

Power and scalability for e-business growth

XA-64e third-generation EXA chipset powering XpandOnDemand up to 32-way

Intel 64-bit Xeon MP, up to 3.33 GHz with 8 MB L3 Cache

x86 64-bit extensions (EM64T) support 32-bit or 64-bit applications on the same platform

Active Memory with hot-swap support - Memory ProteXion, memory mirroring, hot-swap, and hot-add memory

XceL4v Server Accelerator Cache delivers high performance with 256 MB per chassis

2 GB of high-speed PC2-3200 double data rate (DDR2) memory; expandable to 512 GB in a 32-way complex - higher performance and capacity with DDR2 Memory for larger databases

6 x 64-bit Active PCI-X 2.0 266 MHz slots per x460/MXE-460 increases I/O bandwidth for higher performance and productivity

Serial Attach SCSI (SAS) plus optional RAID maximize throughput, ease installation of RAID option card

Modular expansion with the 3U MXE-460 - MXE modular expansion enclosure powers easy upgrades to 32-way

EXA for around-the-clock e-business

Advanced third-generation Chipkill(TM) ECC memory controller to help correct single-, two-, three-, and four-bit memory errors

Active PCI slots, hot-add, and hot-swap adapters

Hot-swap drive bays and redundant fans to replace select components without powering down the server

Two hot-swap, redundant power supplies

Predictive Failure Analysis® (PFA) on processors, memory, fans, power supply, and HDD options to help warn of problems before they occur

Innovative Light Path Diagnostics and top access design; easy to service and configure

Key prerequisites

Monitor, keyboard, and mouse

SAS HDD or Serial Attach SCSI HDD

Rack

Planned availability dates

June 17, 2005 - Up to 8-way support

Second half 2005 - 16-way and 32-way support

Reference information

Notes

Refer to the Planning information section for slot configuration information and restrictions.

Actual playback speed will vary and is often less than the maximum possible.

GHz and MHz denote the internal and/or external clock speed of the microprocessor only, not application performance. Many factors affect application performance.

1 When referring to hard drive or tape backup capacity, GB stands for one billion bytes. Total user capacity may vary depending on operating environments.

2 IBM sends a technician after attempting to diagnose and resolve the problem remotely.

3 For information on the IBM Statement of Limited Warranty, visit

http://www.ibm.com/servers/support/machine_warranties/

Alternatively, this information is also available by contacting your IBM representative or reseller. Copies are available upon request. Visit

http://www.ibm.com/pc/safecomputing/

periodically for the latest information on safe and effective computing.

More from Thermal & Heating Equipment