Servers feature 2.8 GHz/533 MHz SMP processing.
Press Release Summary: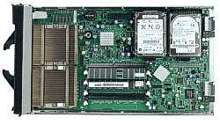 BladeCenter HS20 Blade Servers are installed in high-density, 7U chassis and include Intel Xeon processor with MicroBurst architecture and hyperthreading technology. High-speed, 512 MB double data rate ECC SDRAM memory is standard. Dual gigabit Ethernet connections feature teaming and failover support. Optional Ethernet and Fibre channel switch, Redundant Keyboard Video Mouse/Management, and power modules support advanced configurations.
---
Original Press Release:

IBM eserver BladeCenter HS20 - Fast 2.8 GHz/533 MHz SMP Processing, More Power for Blade-Thin Application Servers, with Redundant KVM/Management Module


At a Glance
BladeCenter and BladeCenter HS20 blade servers continue to revolutionize the economics of application server deployment while fulfilling the promise to deliver power, scalability, control, and serviceability. New BladeCenter HS20 blade servers installed in a high-density, 7U BladeCenter chassis deliver higher processor speeds.

New BladeCenter HS20 Blade Servers
o 2.8 GHz/533 MHz Intel Xeon processor with MicroBurst architecture and hyperthreading technology
o Two-way SMP processing with 533 MHz front side bus (FSB)
o High-speed 512 MB double data rate (DDR) ECC SDRAM memory standard
o Dual Gigabit Ethernet connections with failover support
o Support for Fibre Channel connections
o Integrated systems-management processor
o Integrated IDE controller and connectors for two IDE HDDs with IDE RAID 1 standard
o Optional Ultra320 SCSI HDD storage and high-availability RAID 1 support

Overview
Boost processor speeds for your high-density BladeCenter(TM) with BladeCenter HS20 blade servers with Intel® Xeon processors 2.8B GHz. New offerings include 2.8 GHz with 533 MHz front side bus (FSB) and IDE RAID 1 standard, installed in a new BladeCenter or upgrade an existing BladeCenter installation.

This BladeCenter HS20 blade server, coupled with a BladeCenter chassis, advance application serving with performance, density, and scalability. At your command are powerful, two-way SMP-capable Xeon processors, high-speed memory, dual Gigabit Ethernet connections, IDE RAID 1 (mirroring) and advanced high-availability and systems-management features. Best of all, they provide a new economic approach to the deployment of large numbers of powerful servers that require less space and power resources.

Powerful Blade-Thin Computing: The BladeCenter chassis and BladeCenter HS20 blade servers are the key components to building your blade configuration. Optionally available Ethernet and Fibre channel switch, Redundant Keyboard Video Mouse (KVM)/Management, and power modules support advanced configurations. For information on BladeCenter and related options, refer to Hardware Announcement 102-257, dated September 24, 2002.

BladeCenter HS20 - Performance and Highly Scalable
o 2.8 GHz Xeon processor with 533 MHz front-side bus and full-speed 512 KB ECC L2 cache
o Standard 512 MB system memory with Chipkill(TM) ECC support, supporting up to 4 GB maximum
o Dual Gigabit Ethernet connections with teaming and failover support
o Integrated management processor, monitoring critical components on each blade for remote and local systems management
o ATA-100 IDE controller, economical interface for up to two optional 40 GB3 IDE HDDs with IDE RAID 1 (mirroring) standard for operating system-independent mirroring capability
o SCSI expansion connector, supporting optional storage unit containing an Ultra320 RAID 1 SCSI controller and backplane support for two hot-swap HDDs

Service and Support Perfected for e-business
o IBM Director V4.1 and Remote Deployment Manager V4.11
o ServerProven® compatibility testing and Web support
o Three-year, on-site4, limited warranty

Key Prerequisites
o BladeCenter chassis
o Monitor, keyboard, and mouse for setup
o Network switch module
o HDD
o Rack

Planned Availability Date
July 31, 2003


More from Agricultural & Farming Products