Servers are offered with 1.5 or 1.7 GHz processors.
Press Release Summary: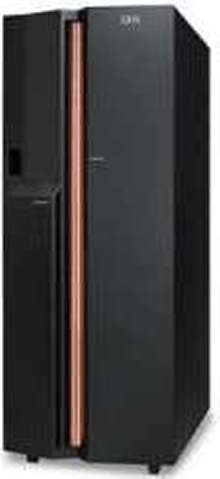 Equipped with POWER4+ processors, pSeries(TM) 670 and 690 servers include Capacity Upgrade on Demand for memory, On/Off Capacity on Demand for processors, and pSeries 670 to pSeries 690 model conversion. Memory cards are available in capacities to 64 GB and speeds to 567 MHz. PCI-X-based I/O planars for 7040-61D I/O Drawer support PCI-X or PCI cards with signaling frequencies up to 133 MHz, while RIO-2 I/O drawer interface technology incorporates loops operating at speeds to 1 GHz.
---
Original Press Release:

IBM pSeries 670 and 690 Offer Faster Processors and Double Maximum Memory; p670 to p690 Model Conversion Now Available


Overview

POWER4+ processors, larger memory, and I/O enhancements add a new dimension to the pSeries(TM) 670 and 690 servers. These new features provide major increases in server performance and capacity for customers of new and installed servers. Also, Capacity Upgrade on Demand (CUoD) for memory, On/Off Capacity on Demand (On/Off CoD) for processors, and a pSeries 670 to pSeries 690 model conversion are offered.

The new, faster processors are based on IBM POWER4+ technology and operate at 1.5 GHz and 1.7 GHz speeds. Higher-speed Level 3 cache options furnish an efficient interface to the processors and memory subsystems.

The maximum memory of the p670 and p690 servers is doubled with the introduction of new 64 GB memory cards. Higher-speed 567 MHz memory cards are available to help ensure optimum memory subsystem performance when utilized with the new 1.7 GHz processors available on the p690.

I/O performance is enhanced with the PCI-X and RIO-2 technologies. New PCI-X-based I/O planars for the 7040-61D I/O Drawer support PCI-X or PCI cards with signaling frequencies up to 133 MHz. The RIO-2 I/O drawer interface technology doubles the connection speed for the I/O drawers by incorporating loops operating at speeds up to 1 GHz. These new offerings significantly increase the number of high-performance PCI-X and PCI adapters allowed per server.

CUoD for memory allows inactive memory to be installed that can be easily activated as business needs require. When additional memory is needed, simply order activation features that increase the active memory on your server in 4 GB increments. An encrypted key activates the processors.

On/Off CoD for processors allows installed CUoD processors to be temporarily activated. Each On/Off CoD activation authorizes 30 days use for two processors. Multiple activations may be ordered to activate more than two processors at one time or to activate two processors for longer periods of time.

The p670 to p690 model conversion allows installed 16-way p670 servers that need additional processing power to convert their 7040-671 Central Electronics Complex (CEC) to a 7040-681 CEC. This model conversion provides asset protection by maintaining the existing server's serial number.

Trial Capacity on Demand (Trial CoD) is a new function delivered with all pSeries servers supporting CUoD resources beginning May 30, 2003. Those servers with standby CUoD processors or memory will be capable of using a one-time, no-cost activation for a maximum period of 30 consecutive days. This enhancement allows for benchmarking of CUoD resources or can be used to provide immediate access to standby resources when the purchase of a permanent activation is pending.

Trial CoD is a complimentary service offered by IBM. Although IBM intends to continue it for the foreseeable future, IBM reserves the right to withdraw Trial CoD at any time with or without notice.

Key Prerequisites

Refer to the Software Requirements section for details.

At a Glance

o 1.5 and 1.7 GHz POWER4+ processors enhance performance
o Larger and faster memory doubles maximum memory
o I/O enhancements include PCI-X I/O planars and RIO-2 I/O interface to increase bandwidth
o CUoD for memory
- 16 GB memory card with 8 GB active
- 32 GB memory card with 16 GB active
o On/Off CoD for processors allows inactive CUoD processors to be temporarily activated
o pSeries 670 to pSeries 690 model conversion

For ordering, contact:
Your IBM representative, an IBM Business Partner, or the Americas Call Centers at 800-IBM-CALL Reference: RE001

Planned Availability Dates

o May 30, 2003
o August 15, 2003:
- POWER4+ CUoD processor feature numbers 7400, 7404, and 7406
- MES orders for POWER4+ processor feature numbers 5243, 5246, and 5248
- MES orders for RIO-2 I/O Loop Attachment card (#6418)
- p670 to p690 model conversions
o August 29, 2003: 128 MB Level 3 Cache, 567 MHz (#4699)
o September 26, 2003: On/Off CoD features

More from Architectural & Civil Engineering Products