Server features Intel 3.06 GHz Xeon processors.
Press Release Summary: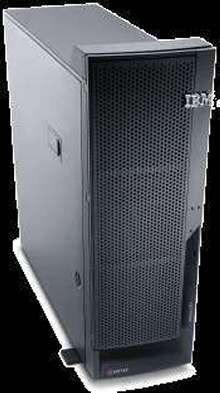 Equipped with 2-way, SMP-capable, Xeon processors with 533 MHz front-side bus and 512 KB ECC L2 advanced transfer caches, xSeries 225 enables users to create reliable foundation for networked entry to mainstream business applications. Product also offers 256 or 512 MB of PC2100 CL2.5 ECC DDR SDRAM DIMM systems memory, 8 GB max. Features include dual-channel Ultra320 controller, hot-swap and non hot-swap drive bay models, and 5 PCI/PCI-X slots.
---
Original Press Release:

IBM eserver xSeries 225 Servers Feature Intel 3.06 GHz Xeon Processors


At a Glance

With updated processor and increased availability features, the xSeries 225 server delivers the power, flexibility, and ease of use you need to create a reliable foundation for your networked entry to mainstream business applications. Features include:

o Two-way, SMP-capable, high-performance Xeon processors with 533 MHz front-side bus and 512 KB ECC L2 advanced transfer caches
o 256 MB or 512 MB (model-dependent) of PC2100 CL2.5 ECC DDR SDRAM DIMM systems memory, 8 GB maximum
o Dual Channel Ultra320 controller
o 4 U rack mount option
o Hot-swap and non hot-swap drive bay models
o Five PCI/PCI-X slots (four PCI-X/one PCI)
o Nine drive bays in hot-swap models and seven drive bays in non hot-swap
o Bootable 48x-20x IDE CD-ROM, 36.4 GB 10,000 rpm Ultra320 SCSI (320 MB/s) HDD (model dependent), and 1.44 MB diskette drive
o Voltage-sensing power supplies
o Either 425-watt power supply or redundant dual 514-watt supplies with variable speed cooling fans
o Excellent diagnostics and systems management support
o Four USB ports, two high-speed NS16550A software-compatible serial ports, and one high-speed parallel port
o Integrated SVGA controller with 8 MB video memory

Overview

xSeries® 225 servers contain impressive storage capacity, redundant power models, and increased processing power. These powerful two-way, SMP-capable, universal xSeries servers contain high-speed memory, high-bandwidth PCI buses, and Ultra320 SCSI data storage.

These popular servers deliver cost-effective, ease-of-use features to run your business and workgroup applications - all at an attractively low price.

Power and Scalability for e-business Growth

o 3.06 GHz Xeon processor
o 533 MHz front side bus speed
o 256 MB or 512 MB of PC2100 CL2.5 double data rate (DDR) ECC SDRAM DIMM, 8 GB maximum
o Five PCI expansion slots:
- Four PCI-X 64-bit (100 MHz)
- One PCI 32-bit (32/33 MHz)
o Integrated single Gigabit Ethernet controller with alert standard format
o Dual-channel Ultra320 SCSI controller
o Internal, high-speed HDD storage up to 880.8 GB
o Hot-swap models with up to six drive bays to improve ease of use and complement data storage protection with integrated mirroring
o Redundant power models

Manageability Features for Better Control

Diagnose problems quickly with manageability and serviceability features.

o Diagnostic LEDs making servicing easier and faster
o Optional Remote Supervisor Adapter supported for out-of-band management and remote POST, setup, and diagnostics
o Automatic server restart (ASR), helping reduce downtime by restarting the server in the event of a system hang
o Variable-speed fans, automatically responds to changing thermal requirements
o PXE remote boot, supporting remote deployment and control
o Wake on LAN®, supporting remote power control
o Alert standard format, providing standard alerts for components such as voltage and thermals

At Your Service

Valuable services, utilities, and systems management tools help improve productivity and get your server up and running quickly.

o IBM Director, managing the xSeries 225 server and other LAN assets
o ServerGuide(TM) utilities, to assist loading of many popular network operating systems
o Remote Deployment Manager (RDM)
o IBM Server Start Up Support for setup and installation support
o Web support
o One-year parts, one-year on-site, limited warranty with optional warranty service upgrades

Key Prerequisites

o Monitor
o SCSI HDD
o Network operating system

Planned Availability Date

August 1, 2003

More from Agricultural & Farming Products