Series-JE Industrial Control Transformers feature IEC touch proof terminals.
Press Release Summary: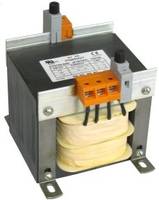 Available in 25-5000 VA rating, Series-JE Industrial Control Transformers are used in factory automation, process control, material handling and motors. Impregnated in high grade class varnish, Series-JE Transformers offer 220/480VAC primary and 25/240 VAC secondary voltage. Unit's primary and secondary winding are separated by bobbin flange. Operated in -20°C to 40°C temperature range, transformers feature finger safe fuse terminals.
---
Original Press Release:
Ensign Corporation Introduces: New group of Industrial Control Transformers. 240/480VAC to 25/120VAC up to 5KVA.
Ensign Corporation is proud to introduce its new configuration of Industrial Control Transformers - Series JE. Power range from 25VA to 5KVA. 220/480VAC input with 25/120VAC output. Various fusing options, e.g. CC, slo-blo midget, for your application. Compact design of transformer meets various international safety agency approvals – UL, CSA, CE. Some of the main features are:
Applications:
The international series CT transformers are especially suited for high inrush current and output voltage stability. This is typically the case when electromagnetic devices such as relays, motors, solenoids, contactors, bells, signals and alarm systems.
Control Panels.
Factory Automation.
Building Automation.
Process Control.
Material Handling.
Vending Machines.
Packaging Equipment.
Amusement Park Equipment.
Semiconductor Manufacturing Equipment.
Instrumentation equipment.
High efficiency applications.
Conveyor Systems.
Machine Tool Equipment.
Pump Systems.
HVAC Industry, residential and commercial.
Motors.
Product Features:
Primary voltage 220/480VAC
Secondary voltage 25/120VAC
25-5000 VA rating available, 50/60 Hz
600V class, machine tool rated industrial control transformers
IEC "Touch proof" terminals
Finger safe fuse terminal, no pull kits or covers needed
Slotted mounting holes for quick and easy mounting
Copper coils for excellent thermal characteristics
High quality steel for low excitation current
Impregnation in high grade class varnish assures environmental integrity
Primary and secondary wound side by side separated by bobbin flange for high isolation up to 2500 Vrms Hipot
Insulation systems available: 105 ºC, 130ºC or 180 ºC insulation system. Additional insulation systems available upon request.
Temperature range: -20°C (-4°F) to 40°C (104°F)
Meets or Exceeds NEMA, ANSI, NMBTA and NFPA (JIC)
Rugged construction for hostile industrial environments.
UL, CSA approved, CE marked and RoHS compliant (UL file # E248236).
10 year warranty
Options Available (please call):
Primary and secondary fuse blocks (for CC fuses, sold separately).
Primary and secondary fuse holders (for slo-blo midget fuses).
Fuse block covers (clear).
Fuse block covers (with indicator for easy fuse status).
Full product selection guide and dimensions available on our web site (https://www.wabashtransformer.com/industrial-control-transformer-sc-32)
Customization is available upon request. Feel free to call us for additional information, request a quote or discuss a custom design.
Benefits of Using Ensign:
Highly experienced staff of engineers (over 180 yrs of cumulative design and engineering experience).
Standard (off-the-shelf) and custom products.
Short lead times on production quantities (stock to two weeks)
Rapid prototyping.
Cost competitive quotes.
Global supply chain provides risk-free and reliable product(s) design and delivery.
Ensign Corporation has been producing quality custom and pre-designed transformers since 1939. Our Quality Policy is simple, and effective:
A) Compliance to Requirements.
B) Continual Improvement.
C) Personal Pride in our Work.
Feel free to take advantage of our standard off-the-shelf models or let us customize a transformer to your particular needs. Either way, you've come to the right place.
Contact:
Ashish Tejpal
201 Ensign Road
Bellevue, IA 52031
T: 630-628-9999
F: 630-628-9922
Email: sales@ensigncorp.com
Web Site: www.ensigncorp.com
Related