Serial-to-Ethernet Converter supports TCP/UDP based modes.
Press Release Summary: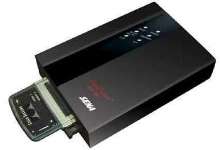 Wireless HelloDevice Super Series manages RS232/422/485 based serial devices over network with features such as PCMCIA interface, flexible host mode, security, and event handling. Units present modem interface to serial device in modem emulation mode, accept AT modem commands, and make raw RS-232/422/485 data travel across local LAN. They run embedded Linux OS and support SSLv2, SSLv3, and TLSv1 for secure data communication.
---
Original Press Release:

Wireless Serial to Ethernet Converter for Serial Devices


Sena Technologies introduces the wireless serial to ethernet converter, "HelloDevice Super Series" to manage the RS232/422/485 based serial devices over the network with advanced features such as PCMCIA, flexible host mode, security, event handling, and customization.

The HelloDevice Super Series supports TCP/UDP based communication modes, and presents a modem interface to the attached serial device in modem emulation mode. It accepts AT modem commands and makes raw RS-232/422/485 data to travel across a local LAN. The HelloDevice Super series supports an enhancement transmission method, "Multicasting" that sends same serial data to 32 remote hosts simultaneously.

The unit runs the embedded Linux Operating system and facilitates user customization using command-line interface or one of several prepared scripts, using UNIX / Linux commands. In addition, Sena provides easy to use Software Development Kit (SDK) environment to quickly develop custom applications that run on the HelloDevice Super Series. Users can customize the web management interface, and integrate the programmed dynamic web pages to web menu. It is based on system-on-chip processor that includes a 32-bit PowerPC core processor, embedded web server, 64MB of SDRAM, and RISC engine designed to perform communication tasks efficiently.

PCMCIA interface of the HelloDevice Super Series supports PC cards such as LAN/Wireless LAN card to access another network, PSTN/CDMA card for out-of-band access, and Flash Memory card for storage. The HelloDevice Super Series supports SSLv2, SSLv3 and TLSv1 for secure data communication and RC4 encryption mode to encrypt/decrypt the entire TCP stream with the user configured key string. In addition, HTTPS is for secure data transfer over the web, SCP is for secure file transfer, and IP filtering is for secure access to serial devices.

The HelloDevice Super Series allows the user to save serial device log and system log to the internal memory (RAM), a compact-flash card, a syslog server, or to an NFS server. "Serial device event handling" system instantly monitors and notifies users of serial device errors or failures. It is available in 1/2/4/8 port models and offers a device networking solution for serial devices. For more information, please contact us at sales@sena.com or visit http://sena.com/products/by_name/hd_super/

More from Electronic Components & Devices