Serial Port Card tolerates severe environments.
Press Release Summary: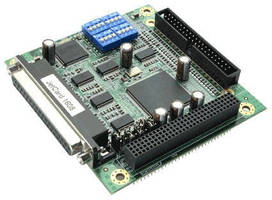 Supporting 32 bit PCI-104 bus, JetCard 1608 provides up to 921.6 Kbps high speed data transmission. It has 2 DB37 connectors for 4 RS-232/422/485 ports, one internal box header for 4 internal RS-232 ports, and provides on-board automatic hardware/software flow control. Operating in -25 to 70°C temperatures and offering 15 kV ESD protection, card withstands harsh environment applications in building automation, security, retail POS systems, and telecom management.
---
Original Press Release:

Korenix Introduces the New PC/104 Plus PCI-104 Serial Card JetCard 1608



Taipei, Taiwan, Nov., 2008 - Korenix, a leading developer of industrial computing and networking solutions, announces the introduction of a new PCI-104 card. The JetCard 1608 is a high performance octal asynchronous serial port card in PCI-104 format and is designed for both RS232 and high RS422/485 that is used in long distance industrial applications. JetCard 1608 PCI-104 bus support both +3.3V and +5V slot. The easy-to-install driver that come with JetCard make it easier for you to set up your complex system. And with its 15KV ESD surge protection, and overload current/voltage protection, JetCard 1608 is ideal for industrial applications in severe environments and is your best choice for applications in building automation, security, retail POS systems, billboard broadcasting, and telecom management.

System developers will appreciate the performance enhancing features that PCI-104 has to offer. Its innovative design provides users with a standards compliant, high performance communications solution that provides reliability for their critical applications. This PCI-104 card is perfect for industrial, satellite, radar, medical, POS and other applications that require robust synchronous/asynchronous communications.

Major features of JetCard 1608
o Support 32 bit PCI-104 bus
o Two DB37 connectors to support four RS-232/422/485 ports
o One internal box header for four internal RS-232 ports
o Built-in 15KV ESD protection
o Supports on-board automatic software flow control
o Up to 921.6Kbps high speed data transmission
o Supports on-board automatic hardware/software flow control
o -25~70°C operating temperature for hazardous environment application ( JetCard 1608-w: -40~80°C)

About Korenix Technology

Korenix Technology is committed in design and manufacturing industrial communications products, which can be used in various markets that requires high stability or for industrial field environments, such as POS, banking, telecom, transportation, industrial automation, energy, power, military, and medical fields.

Korenix has 8 major product lines: JetRock Series IP67/68 Industrial Ethernet Switch, JetNet Series Industrial Managed and Unmanaged Redundant Ethernet Rail Switch, JetPoE Switch Series include PoE managed and unmanaged switch, JetBox series communication computer, JetPort Series RS-232/422/485 3-in-1 Device Server, JetI/O Ethernet-based block I/O modules, JetCon Series Industrial Serial/Ethernet/Fiber Media Converter and JetCard Series Multiport Serial Card. Korenix is committed to provide quality products to our customers. Various safety approvals, such as EMI, EMC, EMS, UL, cUL, are applied to all Korenix products. All Korenix products have 5 years global warranty through worldwide service centers.

For customers' specific application requirements, Korenix also provide tailor-made services. Korenix listens to customers' voices, designs professional products, and provides comprehensive services to make Korenix a reliable partner for global users.

Korenix Technology
sales@korenix.com
www.korenix.com

More from Packaging Products & Equipment