Serial Memory Token Receptacles suit portable devices.
Press Release Summary: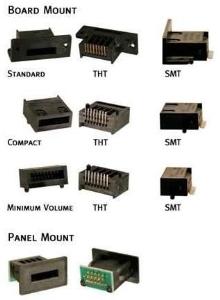 Series SR4000 allows OEMs to integrate data transport and access control capabilities of SlimLine(TM) or Extended SlimLine(TM) Tokens to meet application requirements. Surface mount Model SR4210SMT features mounting flange, 50,000 insertion cycle-life, and detent mechanism for token retention. For smaller devices, Model SR4220PCB eliminates flange and mounts directly onto PCB board. Minimum Volume Receptacle Model SR4230PCB occupies 0.22 cu-in. of volume for maximum space savings.
---
Original Press Release:

New Datakey Electronics Receptacle Family Fits Hand-Held Medical Devices and Other Small Devices


February 17, 2005. Savage, MN - Datakey Electronics, Inc., manufacturer of rugged, re-programmable memory keys and tokens launches an extension of the SR4000 Family of Serial Memory Token Receptacles to include both smaller versions and surface mount versions. These new receptacles allow original equipment manufacturers (OEMs) to integrate the data transport and access control capabilities of Datakey Electronics' SlimLine(TM) or Extended SlimLine(TM) Tokens to meet almost any application's requirements. While they have broad applicability to all micro-processor controlled electronic products, they are especially interesting for portable devices in the medical, secure communications and data logging areas.

The first new receptacle in this family, the SR4210SMT, provides surface mount capability for customers who are using high-volume SMT production methods. This product is a modification of the proven, fully-engineered standard SR4210PCB board mount receptacle, incorporating all of its advantages - sturdy mounting flange, 50,000 insertion cycle-life, and a detent mechanism for excellent token retention.

To meet customers' size and production constraints, Datakey Electronics has also "miniaturized" the proven SR4210PCB design to provide a more "compact" footprint. The Compact SR4220PCB receptacle results from removing the mounting flange from the SR4210PCB so it fills the need for smaller devices while retaining ruggedness, high cycle-life and excellent token retention. The SR4220PCB mounts directly onto a through-hole printed-circuit board and the SR4220SMT has surface mount leads. Both SR4220 receptacles have the proven detent mechanism that gives users tactile confirmation when an inserted token is physically engaged.

Datakey Electronics is further expanding the SR4000 Family to meet customer requirements for the smallest possible footprint, resulting in the introduction of the SR4230PCB Minimum Volume Receptacle. The SR4230PCB is a modified version of our standard SR4210PCB receptacle where the mounting flange has been removed and the housing has been trimmed back for maximum space savings. This receptacle only occupies 0.22 cubic inches of volume! Although not recommended for applications that require substantial token retention (consult factory for details), this receptacle provides high cycle-life and has been successfully implemented in applications where space is at the ultimate premium. The SR4230 is available with through-hole leads (SR4230PCB) and surface mount leads (SR4230SMT).

The SR4000 family mates with Datakey Electronics' rugged re-programmable SlimLine and Extended SlimLine tokens (data carriers) that provide data capacities from 1 Kbits to 4 Mbytes in Microwire, I2C, or SPI serial interfaces. These tokens can be driven over by a truck, dropped in the mud, zapped with ESD (electrostatic discharge) and even sterilized (specific models) - and they will keep working.

This token/receptacle system provides a Last-On/First-Off (LOFO) contact that is used to protect the host bus and the token's re-programmable memory. System designers electrically "sense" that tokens have made secure contact using the LOFO line; then they provide power to the token and initiate read/write communications with it.

Datakey Electronics plans to continue expanding the SR4000 Family of Receptacles to meet other customer needs. Current development programs include enhancements such as dust-sealed and splash-proof receptacles. Also, a panel mount version (SR4210) is currently available - completing the SR4000 series offering to address all possible mounting situations.

Datakey Electronics recommends that designers consult the factory before implementing any of the new receptacles to discuss mounting and installation guidelines.

Datakey Electronics supports the SR4000 Family with a wide range of standard SlimLine(TM) and Extended SlimLine(TM) token choices, the SlimLink(TM) II serial reader/writer and Serial Memory Development Kits. These products help our designers reduce research and development costs, reduce time-to-market and give their products a competitive advantage.

About Datakey Electronics
Datakey Electronics offers a complete catalog of fully-engineered data transport solutions. The product lines consist of proprietary memory keys and other custom-shaped tokens containing non-volatile memory, mating receptacles, reader/writers and development kits. These products are used world-wide in hundreds of military and commercial applications, providing a cost-effective and reliable way of storing and transporting electronic information where conventional methods would not survive. In addition, Original Equipment Manufacturers (OEMs) choose Datakey Electronics because unlike consumer products, they offer life-of-product support.

Datakey Electronics, Inc. has a world-wide base of customers including St. Jude Medical, General Dynamics, Cisco Systems, Raytheon, Siemens, Tyco Healthcare, Gilbarco, governments and many other multi-national corporations.

Datakey Electronics, Inc., based in Savage, MN, is a minority woman-owned business, designing, molding and assembling all of its products in its own factory.

For more information about Datakey Electronics, Inc. visit: www.datakeyelectronics.com

Sue Hansen
Marketing Communications Manager
Datakey Electronics, Inc.
Company Hours: 7:00am to 5:00pm CST
My Working Hours: 7:00am to 3:30pm CST
Tel: 952-746-4066 x323
Fax: 952-746-4061
sueh@datakeyelectronics.com
www.datakeyelectronics.com

More from Software