Serial-Device Server enables remote LED-signboard control.
Press Release Summary: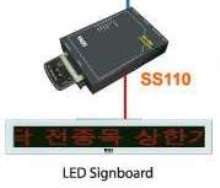 Model SS110 enables users to send messages to multiple signboards and access signboards from multiple locations across network. It supports TCP/UDP multicasting enhancement transmission method. Users specify host PC's IP address and port number in configuration menu. In TCP Server Mode, unit can accept TCP connection from control host and provide dual-direction transmission between control host and signboard.
---
Original Press Release:

Network-Enabling Solution for LED Signboards


Short Description

Sena offers solutions for remote control of LED Signboards.

Details

One sure way of meeting greater "Information Delivery" demands at lowering costs is, using Signboard. But flexibility in sending message to multiple signboards, and accessing a signboard from multiple locations across the network does the matter. Sena introduces a network-enabling solution under the brand name "SS110" to meet these requirements.

How it works

The SS110 supports an enhancement transmission method "TCP/UDP multicasting", which transmits the Signboard log data to multiple remote operation centers simultaneously. In addition, remote hosts can send messages to Signboard. What users need to do is to specify the host PCs IP address and port number in the SS110 configuration menu.

Furthermore, in TCP Server Mode, the SS110 can accept a TCP connection from the control host, and then provide dual direction transmission between control host and Signboard. This mode is useful when users want to send messages to the signboard at any time they want. In addition, the SS110 provides protocol conversion that helps bring legacy LED Signboards' network up to date with current communication trends.

LED signboard message data can be stored in internal memory (RAM), or in a Flash Memory card , and viewed from the SS110's web interface. Also, control capabilities such as full-featured system status display, automatic email delivery of error log, and event handling are included.

Benefits

The benefits of networking LED Signboards are: Remote access to LED signboards in any location from a central PC; Access available for multiple users; Retain existing LED signboards of almost any manufacturer, no need to replace or upgrade equipment; and Maximize existing personnel resources by eliminating onsite administration and maintenance.

More Product Information: http://sena.com/products/by_name/hd_super/

More from Optics & Photonics