SerDes Chipset exceeds 6 Gbps performance.
Press Release Summary: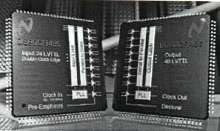 Model DS90CR485/6 serializer/deserializer (SerDes) chipset leverages low voltage differential signaling (LVDS) technology. Each model supports 48-bit parallel bus interface and serializes as many as 48 data bits, between 66 and 133 MHz, onto 8 differential LVDS pairs; clock is sent over additional ninth LVDS pair. Chipsets offer adjustable transmitter pre-emphasis, DC balance, and receiver deskew to drive cables up to several meters.
---
Original Press Release:
National Semiconductor Introduces 6.4 Gbps LVDS SerDes Chipset to Increase Flexibility and Reduce Cost in Communication System Designs

April 28, 2003 - Providing backplane and cable interconnect designers with increased flexibility, National Semiconductor Corporation (NYSE: NSM) today introduced a serializer/deserializer (SerDes) chipset exceeding 6 Gigabit per second (Gbps) performance at a price that is 4X lower than existing solutions. As part of National's broad Channel Link SerDes portfolio, this chipset leverages National's leadership in low voltage differential signaling (LVDS) technology, enabling designers to optimize their system designs easily and cost-effectively. Typical system applications for this chipset include terabit core routers, multi-service access routers, optical switches, high performance color printers and copiers, and storage area network (SAN) fault tolerant servers.

National Semiconductor's DS90CR485 and DS90CR486 SerDes chipset supports a full 48-bit parallel bus interface. Other products on the market serialize only 32 bits on the parallel bus at a much greater cost.

"The current crop of quad 1.25 and 3.125 Gbps SerDes devices has some popularity, but they're still relatively expensive and leave designers few options for serializing buses with more than 32 bits," said Dave Lewis, marketing manager for the Wired Communications Group, National Semiconductor. "National differentiates itself from the pack in that it offers a unique combination of flexible 48-bit parallel bus, low serial data rate and low latency, easy channel alignment, low power and small footprint."

Instead of serializing 32 bits of data onto four differential pairs, the DS90CR485/6 serializes as many as 48 data bits (between 66 and 133 MHz) onto eight differential LVDS pairs. The clock is sent over an additional 9th LVDS pair. This requires more serial data lines, but the lower data rates per line ease differential design requirements. In addition, the extra-wide 48-bit parallel bus not only serializes 32 data bits, but also extra data, control, and address signals. This is a boon for designers who need to extend traditional wide parallel buses across backplanes or cables. The chipset features adjustable transmitter pre-emphasis, DC balance and receiver deskew to drive cables up to several meters.

Customer benefits from the DS90CR485/486 chipset include:

x Significant reduction of system cost due to low SerDes per-part cost

x "Extra-wide" 48-bit parallel bus serializes data bus plus control and address signals simultaneously

x Lower data rate on the differential pairs helps ease design requirements on the backplane and cable

x Inherent channel alignment reduces system logic complexity as Pre-emphasis, deskew, and DC balance extend cable lengths

x Separate transmit and receive chips for low cost unidirectional and non-symmetric links

Additionally, National's Channel Link architecture provides obvious advantages of low overhead, flexibility and ease-of-implementation. The new chipset helps National extend its wide range of SerDes solutions to optimize system designs.

Availability, Packaging and Pricing

The DS90CR485 serializer and DS90CR486 deserializer devices are shipping now. Offered in a 100-pin TQFP package, both of them are priced at $12.90 each in 1,000-unit quantities.

About National Semiconductor

National Semiconductor is the premier analog company driving the information age. Combining real-world analog and state-of-the-art digital technology, the company is focused on analog-based semiconductor products, which include stand-alone devices and subsystems in the areas of power management, imaging, display drivers, audio, amplifiers and data conversion. The company targets key markets such as wireless, displays, information infrastructure and a broad range of portable applications. With headquarters in Santa Clara, California, National reported sales of $1.5 billion for its most recent fiscal year. Additional company and product information is available on the World Wide Web at www.national.com.


More from Sensors, Monitors & Transducers