Sercos Presents Highlights at SPS IPC Drives in Nuremberg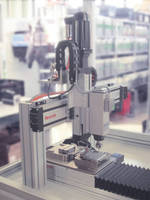 Sercos International, provider of the Sercos® automation bus, will present new products plus safety solutions based on CIP Safety on Sercos at the SPS IPC Drives Show in Nuremberg, November 25 - 27, in hall 2, stand 440. A highlight in the Sercos stand is a machine tool demo from Bosch Rexroth.



This demo shows Bosch Rexroth's expertise in cross-technology solutions for metal-cutting machine tools. The IndraMotion MTX open CNC platform is the basis for the machine's high performance and great flexibility. With Sercos, all real-time communication requirements are handled in the machine. The Sercos real-time Ethernet bus is used with the IndraDrive drives and I/O modules and provides reliable communication with the SafeLogic compact. Energy-saving hydraulics (variable speed pump drives) and precise linear technology components (with integrated measuring system) complete the range.



Visitors to the Sercos stand can have business card holders engraved, on request. The machine also engraves a face in a free form surface application using IndraMotion MTX. The machining is visualized with the aid of 3D online simulation on a tablet computer using WiFi. For this, the app uses the OPC UA interface of the IndraMotion MTX control system in real-time.



More than 20 manufacturers are exhibiting approximately 80 exhibits, including a number of new products, such as the VT-HMC and IndraDrive S20 bus coupler plus (both from Bosch Rexroth), the Sercos/Ethercat bridge from Cannon-Automata and the RapID Network Interface from Innovasic.



Various safety solutions complement the new products. These include SafeLogic and SafeLogic compact from Bosch Rexroth. As part of this, Bihl+Wiedemann will present an AS-i gateway with CIP Safety on Sercos, which offers integrated safety technology for complex applications.



A number of presentations offered on different topics will quench the visitor's thirst for knowledge. These are specialist, but also generic talks, for example on Industry 4.0/ Information Driven Manufacturing, etc. The presentation program will be published on the Sercos Website beginning in early November.



More information can be obtained via the Sercos eNewsletter or website.



About Sercos International

Sercos International is an association of users and manufacturers that is in charge of technical development, standardization, certification and marketing for the Sercos automation bus. Conformance tests guarantee that Sercos implementations are standard-compliant, ensuring that devices from different manufacturers are interoperable. Based in Germany, the organization presently has more than 90 member companies located around the world and has national liaison offices in North America and Asia.



About Sercos

The SErial Realtime COmmunication System, or Sercos, is one of the world's leading digital interfaces for communication between controls, drives and decentralized peripheral devices. Sercos has been used in machine engineering for approximately 25 years and is implemented in over 4 million real-time nodes. With its open, manufacturer-independent Ethernet-based architecture, Sercos III is a universal bus for all automation solutions.









More from Computer Hardware & Peripherals