Separation System supports copper recovery maximization option.
Press Release Summary: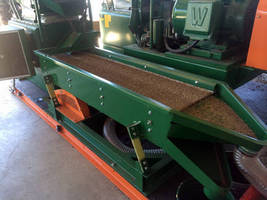 From electrical panel to layout design, modular wire and cable separation system can add additional components as scrap wire and cable volume increases. Expansion can be accomplished by adding 5703 rotary shear to process large coiled material or adding pre-chopper to increase throughput by up to 50%. Sifter option, added to last processing stage, enables additional recovery of copper and aluminum midlands and fines that become trapped in wire and cable plastic waste during separation.
---
Original Press Release:

New Feature For Maximum Copper Recovery in Separation System



Gold Hill, OR — Sweed's modular wire and cable separation system offers a small footprint, engineered for big results.



From the electrical panel to the layout design, this system has the ability to add additional component(s) as your scrap wire and cable volume increases. Expansion is simple and can be done in steps: adjoin a Sweed 5703 rotary shear to process large coiled material, a Sweed Prechopper can also be added to increase throughput by as much as 50%, and if two air tables are too much, Sweed can configure your system with one table (with room to add a second later on).



New Feature



A new feature of Sweed's separation system is the Sweed® Sifter. This is an optional component added to the last stage of processing. It allows for additional recovery of the copper and aluminum midlands and fines that become trapped in the wire and cable plastic waste during separation.



Depending on the type of material being processed, this vibrating sifter provides an increase of copper recovery ranging from .2% - 3% of input weight, (recovering up to 40 lbs of copper per hour); providing maximum efficiency for your system.



The Sweed Sifter can be installed on any existing Sweed Separation System, or on to another system brand in order to achieve the highest recovery rate possible.



About Sweed

Sweed prides itself in being a manufacturer in the United States; providing technical support, customer service, and stocking replacement parts. For more information, contact Sweed Machinery.

Phone: 541-855-1512

Toll-Free: 800-888-1352

Email: sweed@sweed.com

Web: www.sweed.com

More from Electrical Equipment & Systems