Position Sensors / Detectors / Transducers
Sensors provide area detection and measurement.
Press Release Summary: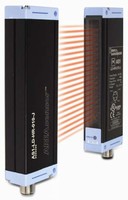 Utilizing crossed-beam detection method, IDEC-DS AS1 photoelectric light grids sense objects as slim as 0.2 mm inside 100 mm height and over operating distances reaching 2.1 m between emitter and receiver. Analog output-equipped IDEC-DS DS1 sensors provide multi-beam light grid suited for detecting and measuring objects with different shapes and sizes. Specifications include 150 mm height, 5 mm resolution, 2.1 mm operating distance, and under 3 ms response time.
---
Original Press Release:

*NEW* IDEC Sensors - The Ideal Solution for Area Detection and Measurement



IDEC-DATASENSOR AS1 and DS1 Sensors

Sunnyvale, CA, February 19, 2008- When you want to accurately detect or measure slim or small objects, the versatile IDEC-DS AS1 or DS1 Area Sensors are the answer! With the respective ability to detect objects as small as a 0.2mm thickness, and to detect and measure objects of different shapes and sizes, these sensors are perfect for a wide range of applications.

AS1 photoelectric light grids utilize a precise crossed-beam detection method that enables detection of even the slimmest objects, with 0.2 mm thickness, inside a 100 mm height, over operating distances reaching 2.1m between emitter and receiver. Thanks to a short response time, the ultra-compact AS1 light grids are just the area sensor for fast conveyor lines or for applications requiring detection and counting of objects in random positions, such as sheet (paper, wood, metal) or envelope detection.

DS1 Detection and Measurement Light Grids with Analog Output, on the other hand, offer a compact multi-beam light grid suitable for detection and measurement of objects with different shapes and sizes with high accuracy and resolution. DS1 is available with 150mm height, 5mm resolution and an operating distance of 2.1m. A response time of less than 3ms, allows installation on the fastest machines and processes, and an analog 0-10V output means you can measure the size, shape or height of an object. You stay in control of the position of your products because the sensor will immediately detect if the orientation is wrong. For instance if a bottle has fallen over or a box does not have its lid secured.

IDEC-DS AS1 and DS1 area sensors offer the best detection and measurement methods for the money. The emitter and receiver are even electrically synchronized offering you three scanning methods, which also means no external drivers are required. For a highresolution area sensor with quick response time, check out the new IDEC-DS area sensors and experience precision detection at its best.

For additional information, please contact IDEC Corporation at 1-800-262-IDEC (4332) or visit www.idec-ds.com.

About IDEC: Headquartered in Osaka, Japan, IDEC Corporation is a global manufacturer known worldwide for over six decades for its reliable control and automation products. In the United States, IDEC has over thirty local sales offices to assist customers with choosing the right switches, relays, power supplies, PLCs, O/Is, sensors and more. A leader in the industry, IDEC produces only the highest quality products. For additional information, visit http://www.idec.com/usa.

About DATASENSOR: Headquartered in Bologna, Italy, DATASENSOR has been on the international market for over 35 years as a leader in the development, production and commercialization of photoelectric devices for detection, safety, measurement and inspection for industrial automation. DATASENSOR is Italy's largest photoelectric sensing device manufacturer and Europe's third largest. DATASENSOR belongs to DATALOGIC's industrial Group Hydra Spa. For additional information, visit www.DATASENSOR.com.

More from Printing & Duplicating Equipment