Electrical Sensors / Detectors / Transducers
Sensors measure vehicle battery current.
Press Release Summary: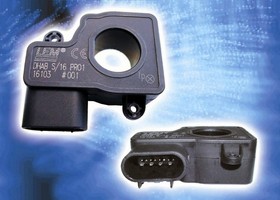 Fixed onto car battery cable, DHAB Hall-effect sensor features dual measuring ranges for ±20 and ±80 A and ±50 and ±600 A current range. Design enables full-range current measurements to be taken in combination with measurements at lower currents. Sensors have sealed housing and no potting is required. Meeting ISO-TS and RoHS standards, sensors come in panel and cable-mount versions.
---
Original Press Release:
LEM Launches Automotive Battery Current Sensors
First to market with dual-range, non-intrusive current sensors for automotive applications Key points: Dual measuring ranges to ±80A and ±600A Wide measuring range combined with high accuracy at low currents Sealed housing with range of mounting options Industry first GENEVA, Switzerland and MILWAUKEE, WI (July 19, 2006) - LEM S.A., the world's leading manufacturer of isolated current and voltage measurement components, today announced a series of dual-range, automotive-qualified sensors for accurate, wide-range current measurements in vehicle battery monitoring applications. The 25 models in the DHAB family are the first in the industry to offer non-intrusive, galvanically-isolated solutions in this arena. A DHAB Hall-effect sensor is fixed onto the battery cable of a car. Its two cores allow it to be used for two separate current ranges - one between ±20 and ±80A and the other between ±50 and ±600A. This enables full-range current measurements to be taken in combination with highly-accurate measurements at lower currents. The sealed housing of the DHAB sensors means that no potting is required. Panel and cable-mount versions are available to offer maximum mounting versatility. The sensors meet all relevant standards, including ISO-TS and RoHS. As with all other LEM products, the DHAB sensors benefit from the company's proven high-quality approach to manufacturing and are backed by a five-year guarantee. Principal applications are expected to be in the measurement of battery-pack current in electric and hybrid vehicles. LEM LEM is a market leader in providing innovative and high quality solutions for measuring electrical parameters. Its core products - current and voltage transducers - are used in a broad range of applications in industrial, traction, energy, automation and automotive markets. LEM's strategy is to exploit the intrinsic strengths of its core business, and develop opportunities in new markets with new applications. LEM is a mid-size, global company with approximately 700 employees worldwide. It has production plants in Geneva (Switzerland), Machida (Japan), Beijing (China), plus regional sales offices, and offers a seamless service worldwide. Further information is available at: www.lem.com. Contact: Perrin McCormick Hart-Boillot, LLC Telephone: 781-893-0053, ext. 15 E-mail: pmccormick@hartboillot.com
More from Explosives, Armaments, and Weaponry