Sensors combine intelligence and modularity.
Press Release Summary: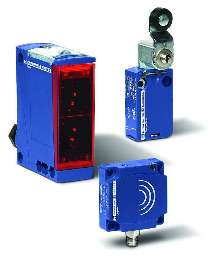 Auto-adaptable TELEMECANIQUE® OSIPROX(TM) proximity sensors automatically adjust for max sensing distance no matter what their environment. OSIRIS(TM) photoelectric sensors automatically change to retro-reflective or thru-beam mode, and identify if target material is light or dark. OSISONIC(TM) ultrasonic sensors have sensing range of 6 mm to 1 m and are unaffected by dust, ambient noise, or temperature fluctuations. OSISWITCH(TM) limit switches offer modularity in bodies, contact blocks, operating heads and, cable entries.
---
Original Press Release:

Schneider Electric Simplifies Sensors with Launch of World's Most Comprehensive Family of Smart Sensor Products


Technology breakthrough simplifies sensor selection, installation and operation

PALATINE, Ill. - April 15, 2003 - A global effort to redesign sensing products based on customer needs and priorities has created a family of technologically-advanced TELEMECANIQUE® sensors from Schneider Electric that are easier to select, install and operate. This comprehensive portfolio of sensing products-called OSI, or Offering Simplicity through Innovation--encompasses photoelectric, inductive proximity and ultrasonic sensors and limit switches.

"We talked to hundreds of customers in countries around the world and what they wanted most was simplicity," said Pam Naylor, sensors product manager for Schneider North America. "Everything about sensors, from how to select the right one for an application to initial set-up and maintenance, was just too complex. So our global design team focused on building a technology platform that would reduce the cost and time involved in sensing for both OEMs and industrial users."

The OSI Concept(TM) is a technology platform that combines intelligence and modularity to make it simple to select, stock, install, set up and maintain sensors. Schneider Electric designers also added a fourth dimension-aesthetics-with uniform shapes and compactness as well as a uniform blue color across all products. "Aesthetics is an important but often neglected part of sensor design," said Naylor. "It's particularly important for machine builders who want to present an image of engineering and manufacturing excellence to their customers."

In addition to simplicity, Schneider Electric also focused on two other objectives in designing its new family of sensors-availability and adaptability. Availability means that a customer can quickly identify the greatest number of solutions with a minimal number of parts, according to Naylor, and adaptability means that every product in the line has wide operating parameters to meet all the environmental constraints involved in a wide variety of installations.

"Unlike sensor specialists, who focus only a single detection technology-with all the advantages and disadvantages inherent in that technology-we wanted a family of sensing products that could be applied to the broadest number of applications and machinery requirements," said Naylor. "We also wanted to make sure the same design, with the same part numbers, was available to OEMs and industrial companies worldwide. That simplifies inventory, service and replacement orders anywhere equipment makers and their customers operate."

Proximity Sensors
In creating the new sensors, Schneider Electric focused on those design aspects that make sensor selection and use most complex. Conventional inductive proximity sensors, for example, pose a number of difficulties. Apart from their size, proximity sensors are sensitive to metal environments. If flush mounted, their performance can be negatively affected. That makes set-up and mounting difficult and time-consuming.

"Our new TELEMECANIQUE OSIPROX(TM) sensors eliminate all these problems," said Naylor. "Extremely compact bodies integrate easily into a machine or process. Advanced microprocessor design also makes them auto-adaptable. Each sensor automatically adjusts to give the maximum sensing distance no matter what their environment. A single touch of a self-teach button programs the sensor for its environment and is also used to make any precision adjustments. Finally, quick mounting brackets make the sensor easy to install or replace."

Photoelectric Sensors
Photoelectric sensors pose equally difficult challenges for engineers. Different sensors have been required, depending on the type of target material, whether its surface has a matte or reflective finish, whether it is light or dark and the overall environment. This not only creates complexity in selection but leads to a great deal of trial and error in installation and set-up. Sensor positioning and definition of the sensing range have also been difficult to determine. It frequently requires special mountings and protection and increases installation costs.

"We've been able to considerably increase the capabilities of photoelectric sensors with our new TELEMECANIQUE OSIRIS(TM) sensors," said Naylor. "These new multi-mode sensors can do it all, operating accurately in diffuse environments as well as with background suppression. Each OSIRIS photoelectric sensor is able to function in the most common sensing modes for maximum flexibility and precision. They also have two output states (NO or NC) which are selectable by the user. These features can reduce the number of part numbers required to handle photoelectric sensing for most companies by a factor of ten."

According to Naylor, it's simple to increase the sensing distance by adding a reflector or transmitter. The sensor automatically changes to retro-reflective or thru-beam mode, whichever is required. It also automatically identifies whether the target material is light or dark to activate the output (or the reverse). The microprocessor governing the sensor's embedded intelligence allows it to run a teach mode set-up for quick installation, with the option of a second, more precise teach setting for very accurate and reliable detection in any environment.

Ultrasonic Sensors
As part of this global launch of new sensing products, Schneider Electric has added a new line of ultrasonic sensors. Called TELEMECANIQUE OSISONIC(TM), these new ultrasonic sensors are suited for difficult environments because they're unaffected by dust, ambient noise or temperature fluctuations. They're also resistant to chemical agents because of their completely sealed enclosure.

Ultrasonic sensors are most often used in such applications as food processing, packaging, automotive or paper production because they can handle multiple materials without adjustment, including metal, plastic, liquids and powders, as well as light or dark or transparent materials.

"The built-in learning function of the 30mm OSISONIC ultrasonic sensor simplifies set-up and the overall compact size of the line makes them adaptable to many environments," said Naylor. The cylindrical sensors are available in 12mm and 18 mm proximity mode and 30 mm proximity or reflex mode. Reflex mode is ideal for sensing absorbent materials such as sponges or other objects with a rough, uneven surface. These new sensors have a sensing range of 6mm to 1 meter, depending on the model.

Limit Switches
The OSI concept of modularity has also been applied to limit switches to simplify selection and use. "The lack of diversity of operating heads, bodies and contact blocks from most manufacturers makes it difficult to find exactly the right combination of components required for a particular application," said Naylor, "but the new line of TELEMECANIQUE OSISWITCH(TM) limit switches offers complete modularity in bodies, contact blocks, operating heads and cable entries to simplify any configuration."

More than 40 metal operating heads, completely interchangeable, can be combined with five different body styles and six conduit entries, all of which allow the new switches to conform to local standards and customs on a worldwide basis. Limit switch components that enable up to 5,000 different configurations are available anywhere in the world from Schneider Electric within 48 hours.

The new limit switches are the only ones on the market with snap action contact blocks with direct opening operation. Product cabling has also been simplified, reducing electrical connection time by an estimated 40 percent. Operating heads and levers with three-dimensional orientation also make installation simpler and enable switch mounting in any position for accurate cam actuation.

The new TELEMECANIQUE family of smart sensing products is compatible with Schneider Electric's TRANSPARENT READY(TM) electrical distribution, industrial process and machine control equipment, which incorporate Ethernet and other information technologies for improved factory and facility management.

"This global approach to discrete sensing technology and product design means machine builders can improve performance by having less complex and more intelligent machines," said Naylor. "For industrial users, it means reduced installation and maintenance time. For both, it means less time spent in selecting and ordering sensing products, as well as lower inventory requirements."

For more information about the complete line of TELEMECANIQUE sensing products from Schneider Electric, call 1-888-SQUARED or visit SquareD.com/sensors.

Schneider Electric, with leading international brands such as MERLIN GERIN, MODICON, SQUARE D, and TELEMECANIQUE, provides electrical, industrial control and automation solutions for customers in the energy, buildings, industrial and infrastructure markets. Schneider Electric's 67,500 employees generated sales of approximately $8.3 billion in 2002 through 9,000 sales outlets in 130 countries. Visit Schneider Electric at www.schneiderautomation.com, www.SquareD.com or www.schneider-electric.com

More from Controls & Controllers