Sensoray Highlights Model 2453 IP Video Server for Ethernet Streaming for Defense Applications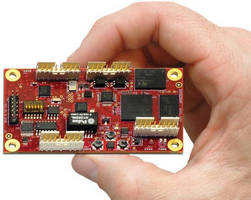 Device creates two independent output streams from one video input



Tigard, OR – Sensoray announces that its Model 2453 IP Video Server allows users to capture and compress analog audio and NTSC/PAL video and send the resulting streams over Ethernet. With an impressive range of configurations, the Model 2453 is flexible and powerful enough to meet the demanding requirements of defense applications.



The Model 2453 can simultaneously produce two output streams with independent resolutions, frame rates, and bit rates, allowing it to be easily tailored to match the requirements and network capabilities of individual applications. With a number of advanced features including de-interlacing with motion artifact removal, real-time text overlay, and image rotation and mirroring, the Model 2453 is well suited for a wide range of defense applications, including security and surveillance applications.



The Model 2453 is available in four configurations: 2453TAS, which includes the Model 2453 and Model 2453TA in metal enclosure; the 2453S, which includes the Model 2453 is in a low-profile metal enclosure; the 2453, which is a board version of the server; and a miniature version of the product, model 2454, which weighing less than one ounce but provides the same functionality as model 2453. The 2454 uses high density headers instead of standard connectors, leading to decreased weight.



For more information, go to www.sensoray.com/PR01/2453



ABOUT Sensoray

Sensoray is an industry-leading designer and manufacturer of OEM electronics for video imaging, data acquisition and machine control. The company is committed to clarity, efficiency and functionality in all of their designs, and to consistently providing customers with the highest quality solutions. Sensoray offers drivers for Windows or Linux and live technical support, thereby ensuring that customers' development projects are fast and easy. For more information, or to contact an engineer regarding a custom design, visit www.sensoray.com or email support@sensoray.com.  

More from Mechanical Components and Assemblies