Gas and Chemical Sensors / Detectors
Sensor/Transmitter is self cleaning.
Press Release Summary: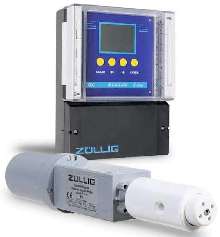 Züllig dissolved oxygen system reduces cleaning and calibration frequency in harsh wastewater treatment environments. Solid-state, galvanic sensor has 2 insulated electrodes that are continuously polished by rotating, diamond grindstone. Self-cleaning process eliminates manual cleaning and replacing of membranes and replenishing of electrolyte solution.
---
Original Press Release:
Züllig DO Sensor and Transmitter

The unique Züllig dissolved oxygen system significantly reduces cleaning and calibration frequency in harsh wastewater treatment environments. This solid state galvanic sensor has two insulated electrodes continuously polished by a rotating diamond grindstone. The self-cleaning process eliminates the time-consuming tasks of cleaning and replacing membranes and replenishing the electrolyte solution.

Emerson Process Management, Rosemount Analytical Inc., Liquid Division

(800) 854-8257

www.raihome.com

If you'd like, I'd be happy to arrange a quick conference call for you with Rosemount to discuss the Züllig DO sensor and transmitter in more detail and how they could be useful to your readers. I look forward to hearing from you. Thank you!

Best,

Alexandra Ruben

714-957-8880 ext. 132

alexandra@strategiesadpr.com
More from Machinery & Machining Tools