Pressure Sensors / Detectors / Transducers
Sensor measures melt pressure in injection molding machines.
Press Release Summary: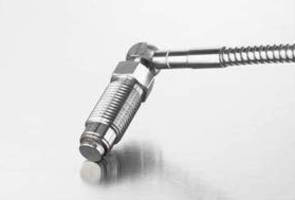 Based on piezoresistive principle, Type 4021A Sensor measures melt pressure in front of screw of injection molding machines with reproducibility error of less than 0.1%, linearity error of less than 0.5%, and zero point change of less than 0.5%. Sensor is supplied as complete measuring chain with amplifier that also has output for melt temperature. Suited for temperatures up to 350°C, sensor offers measuring ranges of 0-100, 0-500, 0-1,000, 0-2,000, and 0-3,000 bar.
---
Original Press Release:

New Melt Pressure Sensor for Higher Precision in Measuring Nozzle Pressure



Melt pressure in front of the screw of injection molding machines is an important process parameter. Machine control is critically dependent on its precise measurement. This is because injection molding components can only be kept within extremely tight tolerances if this pressure can be accurately and repeatably measured and recorded over an extended period of time. The new melt pressure sensor Type 4021A... from Kistler is a groundbreaking new development based on the piezoresistive principle of measurement. It measures the important machine parameter directly in the area in front of the screw with reproducibility errors of <0,1 %, a linearity error of <0,5 % and a zero point change of <0,5 %.

The sensor with a flat seal is supplied as a complete measuring chain with a new amplifier that also has an output for the melt temperature. The new melt pressure measuring chain is available for measuring ranges of 0 ... 100, 0 ... 500, 0 ... 1 000, 0 ... 2 000 and 0 ... 3 000 bar, and can be used at temperatures of up to 350 °C. Angled or straight cable exits and a connector version allow it to be used on machines presenting a wide variety of mounting situations.

Please find text and printable picture-files on our webpage: www.kistler.com (News & Press)

Kistler Group

Kistler's core competence is the development, production and use of sensors for measuring pressure, force, torque and acceleration. Kistler's know-how and electronic systems can be used to prepare measuring signals for use in analyzing physical processes, controlling and optimizing industrial processes, improving product quality in manufacturing and improving performance in sports and rehabilitation.

Kistler offers a comprehensive range of sensors and systems for engine development, automotive engineering, plastics and metal processing, installation technology and biomechanics.

A worldwide sales presence in the form of 25 group companies and 30 distributors ensures customer proximity, application support on an individual level and short lead times.

With a staff of about 1000, the Kistler Group is one of the world's leading providers of dynamic measuring instrumentation. The Kistler Group achieved turnover of 215 million Swiss Francs in the 2008 financial year.

More from Material Processing