Sensor Cables and Connectors offer various options.
Press Release Summary: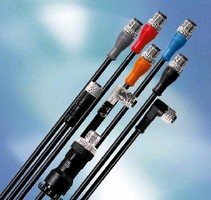 Molded Sensor Cables are available with M12 male or female, straight or 90° angle connectors, with or without LED indication in 3, 4, 5, or 8 poles. Cable material can be PVC, shielded, or PUR. To expand ports on hard-wired distribution boxes, cables are also offered in Y assemblies where 1 connector can be wired with 2 cables leading to 2 connectors. Available in 3 and 4 positions, ASI M8 molded cables include 3 m connector-to-connector versions and 5 m connector-to-wire models.
---
Original Press Release:

Sensor Cable and Connector Lines Expanded



Carlisle, PA - Automation Systems Interconnect, Inc. has announced the expansion of their line of sensor cables and connectors. Customers will now have a molded cable choice with M12 male or female, straight or 90 degree angle connectors, with or without LED indication in 3, 4, 5, or 8 poles. The cable material can be PVC, Shielded or PUR and they are also available in Y assemblies where one connector can be wired with two cables leading to two separate connectors. The Y assemblies are an ideal method to expand the ports on hard wired distribution boxes.

A similar product line expansion has taken place with the M8 molded cables in both the 3 and 4 position. An excellent feature of the ASI cables is that they are standard in a 3 meter length in the connector to connector versions and 5 meters in the connector to wire, compared to competitors which are 1 and 3 meter respectively. In addition to the cables, the field attachable connectors have been expanded to include straight and 90 degree versions, with and without LED indication, Y and T connectors, and panel mount in both the M8 and M12 versions.

Sensor distribution boxes with or without molded cable assemblies have also been added to be used with these cables, connectors and sensors offered by ASI.

More information including a new brochure, pricing and availability can be obtained by calling ASI toll-free at 877-650-5160. Additionally, you can request information and pricing on special cable lengths by speaking directly with ASI. The website for information on these products and others from ASI is www.asi-ez.com.

Contact:
Sales
P.O. Box 1230
Carlisle, PA 17013
Phone: 877-650-5160
Fax: 717-249-5542
E-Mail: info@asi-ez.com

Contact:Howard Minnick
hminnick@asi-ez.com

More from Test & Measurement