Self-Wetting Adhesives protect display screen surface.
Press Release Summary: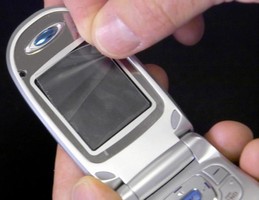 ARclear® 90854 and ARclear® 90684 provide temporary protection to surface of touch screens and flat panel display screens in high-use, abusive, or harsh environments. Cleanly removable adhesive films self-apply by wetting out onto smooth surfaces and can be repositioned repeatedly. While ARclear 90854 comes on clear, hard-coated film, ARclear 90684 comes on anti-glare, hard-coated film. Both can be diecut to fit specific display surface dimensions.
---
Original Press Release:

Adhesives Research Debuts Self-Wetting Adhesives at SID 2006 Show



Films Protect Surfaces of Display Screens

GLEN ROCK, Pa. (May 18, 2006) - Adhesives Research, Inc., a leading global developer and manufacturer of custom pressure-sensitive adhesive tapes, coatings, specialty films and laminates, will showcase adhesive technologies for the display and touch screen industries in booth #401 at the Society for Information Display trade show in San Francisco, Calif., June 6-8, 2006.

Debuting at this year's show are two self-wetting adhesive films, ARclear® 90854 and ARclear® 90684, designed to provide temporary protection to the surface of touch screens and flat panel display screens in high-use, abusive or harsh environments, such as mobile phones, MP3 players, and PDAs. The adhesive virtually self-applies by spontaneously "wetting out" onto smooth surfaces. Both of these adhesive films can be repositioned repeatedly and are cleanly removable, even after an extended period of time, allowing users to replace the film when damaged while protecting the sensitive display underneath.

These films are environmentally durable, with ultra-low peels to prevent build-up, high-shear resistance to prevent displacement and very low pressure lamination. They can be easily diecut to fit specific display surface dimensions. ARclear® 90854 is supplied on a clear, hard-coated film and ARclear® 90684 is supplied on an anti-glare, hard-coated film.

Adhesives Research will also showcase ARclean® 90178 and ARclean® 90176, two electronically clean, low outgassing adhesives with adhesive conformability designed for perimeter spacer bonding in resistive touch screens and other similar electronic devices. Adhesives Research's electronically clean adhesives reduce fogging and minimize corrosion, which preserves linearity of the delicate conductive oxide (ITO) surfaces and circuitry in touch screen devices.

Finally, Adhesives Research will be featuring its ARclear® optically clear transfer adhesives for display applications that are non-birefringent, with low haze (<1%), high clarity (>97%) and high light transmission (>95%). These adhesives all offer long-term durability and are environmentally robust, resisting temperature extremes, humidity and UV light. The ARclear® product line has been engineered to work in concert with critical display materials, films and other components.

Adhesives Research is one of the world's leading independent developers and manufacturers of high-performance, specialty pressure-sensitive adhesive-coated products. Founded in 1961, Adhesives Research offers problem-solving capabilities and custom solutions in adhesive polymerization, mixing, adhesive coating and release liner design supported by extensive product development and analytical support. The Company's North American and Limerick, Ireland, facilities are certified to the updated ISO 9001:2000 standard.

Adhesives Research's pressure-sensitive adhesives are used around the world in electronics, displays, wireless telecommunications, window fabrication and the pulp and paper industry, as well as in the medical diagnostics and devices, wound care, pharmaceuticals transdermals, and the cosmetic and personal care industries. Based in Glen Rock, Pennsylvania, Adhesives Research also operates manufacturing facilities in Ireland, Australia and Colombia, has sales and marketing offices in Great Britain, Germany and Singapore, and sales representation in Taiwan, Thailand and Japan.

For additional information, contact Dave Williams, Market Manager, Adhesives Research, 400 Seaks Run Road, Glen Rock, PA 17327 USA. Phone: 717.2227.3265; Fax 717.235-8466; E-mail: dwilliams@arglobal.com; Web: www.adhesivesresearch.com.

Adhesives Research® is a registered trademark of Adhesives Research, Inc., for engineering and design services in the field of pressure-sensitive adhesives systems.

More from Electronic Components & Devices