Self-Sealed Power Supplies eliminate need for enclosures.
Press Release Summary: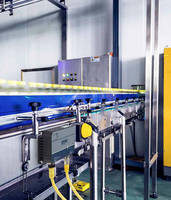 IP67 SCP-X, available in 100 W and dual 100 W models, mounts directly on machines or as freestanding components on production line and can power 1–4 loads. While 100 W model has one output of 3.8 A at 24 Vdc, dual 100 W models have quad output of 7.6 A at 24 Vdc (3.8 A max per pair) and eliminate need for splitters or additional wiring to power up to 4 loads. Product occupies 4.7 x 7 in. footprint and does not require enclosure or fan. Shock-absorbing, self-sealed enclosure carries IP67 rating.
---
Original Press Release:

SolaHD IP67 Rated Power Supplies Eliminate Need for Enclosures in Extreme Industrial Environments



ROSEMONT, IL – With the increasing demand for machine device control and communication over industrial Ethernet, DeviceNet, and other networks, OEMs have found that installing traditional power supplies in distributed and remote locations has become prohibitively complex and costly because of the need for protective enclosures, fans, and excess wiring. In addition, enclosures introduce another potential point of failure into the production line.



To reduce cost and complications, SolaHD has launched its new IP67 SCP-X self-sealed power supplies. They mount directly on machines or as freestanding components on a production line, removing the constraints imposed by power supplies that must be housed in enclosures. Compared to power supplies housed in a separate enclosure, the IP67 SCP-X reduces total cost of ownership by as much as 54 percent.



Because the IP67 SCP-X is available in 100 watt and dual 100 watt models, it has the versatility to power from one to four loads. The 100 watt model has a single output of 3.8A at 24Vdc to deliver cost-efficient field power in a compact unit that requires minimal assembly. Dual 100 watt models have quad output of 7.6A at 24Vdc (3.8A max per pair). It eliminates need for splitters or additional wiring to power up to four loads, making it perfect for high density power requirements such as large conveyor belts or automative assembly lines.



Extreme environments found in industrial locations will compromise the performance of a standard power supply. This is why SolaHD took every measure possible to make very make the IP67 SCP-X the most robust industrial-grade power supply on the market today. This extends from its shock-absorbing, self-sealed IP67 rated enclosure impervious to water, dust and corrosion, to an optimized thermal management layout that prevents overheating while doing away with bulky external fans or forced air. It will operate reliably in ambient temperatures of -40°C to 60°C for the single watt model and -20°C to 60°C for the dual watt. In addition, it keeps signal noise and electromagnetic interference (EMI) well below the limits required to ensure reliable data communications.



Design engineers will welcome the IP67 SCP-X's ability to be direct mounted on a machine. In addition to not requiring an enclosure or a fan, it minimizes cabling to power devices while offering the flexibility to mount in any orientation with no derating. Quick change connectors simplify connectivity for distributed I/O devices, as well as assembly/disassembly. Its compact footprint of 4.7" x 7" compares favorably to a traditional power supply enclosure measuring 16" x 14".



New SolaHD IP67 SCP-X power supplies are immediately available. Both 100 watt and dual 100 watt models are backed by a five year limited warranty, the longest in the industry. All models are certified to meet Class 2 requirements for power limiting.



For more information, visit www.appletonelec.com.



About Emerson

Emerson (NYSE: EMR), based in St. Louis, Missouri (USA), is a global leader in bringing technology and engineering together to provide innovative solutions for customers in industrial, commercial, and consumer markets around the world.  The company is comprised of five business segments: Process Management, Industrial Automation, Network Power, Climate Technologies, and Commercial & Residential Solutions. Sales in fiscal 2014 were $24.5 billion. For more information, visit Emerson.com.



About Emerson Industrial Automation

Emerson Industrial Automation (www.EmersonIndustrial.com), a business of Emerson, provides automation and power generation technologies and services to a wide range of industries. With its global capabilities and deep industry expertise, Emerson Industrial Automation is a trusted partner for products and solutions that increase machine performance, efficiency, reliability, and availability. Its industry-leading brands include Appleton®, ASCO®, Branson®, Control Techniques, Leroy-Somer®, Numatics®, O-Z/Gedney, and SolaHD.



Contact:

Mary Krauss

Emerson

T (800) 621-1506

mary.krauss@emerson.com

More from Cleaning Products & Equipment