Self-Retracting Cable Reel suits static grounding applications.
Press Release Summary: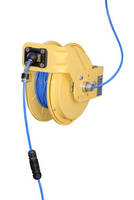 Housed in powder-coated steel, Model VESM02 provides static ground protection for difficult field applications such as tanker trucks, rail cars, IBCs, and mobile tanks or drums. NEMA 4/IP56-rated unit is fitted with 50 ft of Cen-Stat(TM) Static-Dissipative Hytrel(TM) protected cable with adjustable ball stop, which is held under constant tension by spring/auto-locking device. Main cable is pre-terminated by additional 10 ft of 2-conductor cable to facilitate connection to Earth-Rite grounding system.
---
Original Press Release:
Fifty-Foot Self-Retracting Grounding Reel Right for Demanding Static Grounding Applications
The new VESM02 cable reel from Newson Gale Inc. is specifically designed to provide secure static ground protection for difficult field applications such as tanker trucks, rail cars, IBCs, and mobile tanks or drums. In these cases, typically, the equipment to be grounded may be some distance away from a proven grounding point and an outdoor location limits the use of permanently exposed cables. Further, the need for a continuously monitored connection to ground can be even more problematic. VESM02 self-retracting reels are housed in a durable, light-weight steel housing with a powder-coated finish, suitable for use outdoors or indoors per NEMA 4 / IP 56 / ingress protection. The reel is fitted with 50 feet (15.2 meters) of Cen-Stat(TM) Static-Dissipative Hytrel(TM) protected cable with an adjustable ball stop. The stop is held under constant tension by a spring/auto-locking device. And, as a convenience, the main cable is pre-terminated by an additional 10 feet of two-conductor cable, configured to facilitate direct connection to the appropriate Earth-Rite grounding system (either flex cable or conduit). The precision slip-ring assembly has a special ultra-low resistance design making it suitable for monitoring extremely low grounding and bonding resistance values such as a value of 10 ohms as recommended by all major international static control technical standards and industry guidelines. This new reel has been assessed and approved in accordance with European ATEX requirements for installation in Zone 1 (flammable gas/vapor) and 21 (combustible powder/dust) when connected to any Earth-Rite Grounding System with intrinsically safe monitoring circuit output. The design is also suitable for use in conjunction with Earth-Rite systems with certified intrinsically safe monitoring circuit outputs according to NEC Class/Division approvals. A VESM02 reel may be specified with any of Newson Gale's ATEX and FM approved 2-pole grounding clamps but the most common choice is the VESX-90-IP Universal Heavy-Duty clamp. Its rugged tungsten carbide contact points are especially appropriate for tanker trucks, rail cars and mobile tanks. Other useful options include a 345-degree pivot swivel mounting base, providing a wide angle of use when necessary. For additional information, contact: Newson Gale Inc., 460 Faraday Ave., Unit B, Suite 1, Jackson, NJ 08527. Phone: 732-987-7715. E-Mail: groundit@newson-gale.com. Website: www.newson-gale.com
More from Machinery & Machining Tools