Self-Leveling Rotary Lasers suit interior/exterior use.
Press Release Summary: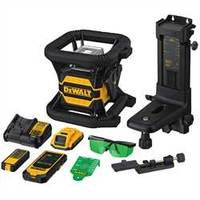 Designed with automatic horizontal self-leveling system, Models DW078 and DW079 provide accuracy at ±1/8 in. per 100 ft, while Model DW074 offers accuracy of ±¼ in. per 100 ft. Model DW074, powered by 2 D batteries, is equipped with 2 mW beam that delivers 1,000 ft working diameter. Powered by 9.6-18 V, 4 mW Model DW078 and 5 mW Model DW079 have working beam diameter of 2,000 ft. All lasers are built with covered rotary head cage for protection from jobsite hazards.
---
Original Press Release:
DeWalt Introduces New Family of Self-Leveling Rotary Lasers
-- Lasers Provide Increased Durability, Accuracy, Visibility and Ease of Use -- July 2008 - DEWALT, a leading manufacturer of industrial power tools, announced the launch of its new family of self-leveling rotary lasers for interior and exterior use (DW074 and DW079) and exterior only use (DW078). The new lasers are ideal for trim carpenters, concrete workers, general contractors, deck builders, masons, and remodelers for applications including site leveling, excavation, post installation, concrete leveling, multi-level construction, block layout, benchmark and elevation leveling, and other interior and exterior applications. Durability
For increased protection from jobsite hazards, the new self-leveling rotary lasers are built with a covered rotary head cage. DeWALT designed the head cage with multiple thin struts that surround the head in order to maintain durability and minimize blind spots. The DW078 and DW079 are equipped with an enclosed battery door that is dust and water resistant and allows users to easily remove batteries. Additionally, the DW078 and DW079 have a rubber over-molding that provides additional protection to critical laser areas when dropped. Accuracy
The DW078 and DW079 are designed with an automatic horizontal self-leveling system that provides accuracy at plus or minus 1/8" per 100'. Easy to read X and Y LED lights flash while the laser is leveling. Once the unit is level, a solid LED beam will appear. As a way to further help to eliminate user error, DeWALT designed the DW078 and DW079 with a Hi-Alert feature that automatically turns the laser off to inform the user that the laser is no longer level with its original position. The DW074 is designed with an automatic horizontal self-leveling system that provides accuracy at plus or minus 1/4" per 100'. Once the laser is turned on, it will begin to level itself and the laser dot will stop blinking when the unit is level. The DW074 is also equipped with a manual leveling feature for vertical mode that has electronic buttons for fast and accurate set up. Visibility
The new rotary lasers are among the brightest in their class. The DW078 and DW079 are equipped with bright, sharp, high-powered beams that have a 2000' working diameter. The DW079 has a 5mW beam, which makes it the brightest Class IIIa beam in the market and is visible indoors up to 100'. Additionally, the DW079 has an easy-to-use scan mode button that displays a laser chalkline where the user needs it and can be easily controlled by the wireless remote or easy-to-use built in control panel. The DW074 is equipped with a 2mW beam, which is the brightest beam available at this price point. The laser is visible indoors up to 100' and up to 1000' in diameter outdoors. Ease of Use
Each model has a simple interface that starts with the power button. Once the lasers are turned on the DW074 and DW078 automatically begin leveling in horizontal mode, and the DW079 begins leveling in both horizontal or vertical mode. Both the DW078 and DW079 are designed with enhanced remote control features that include a manual slope override system, which allows users to slope the laser and not the tripod when setting grades up to plus or minus five degrees. Both units have an on/off control that eliminates the need for users to have to walk back to the unit to reset the unit once it has been turned on at the base. Additionally, the DW079 remote control is equipped with a private mode to eliminate remote control interference between multiple users. The DW078 and DW079 are powered by DeWALT 9.6V - 18V batteries that provide 30 hours of run time. The DW074 is powered by 2 "D" cells that provide more than 50 hours of runtime. About DEWALT (www.dewalt.com)
DEWALT is a leading manufacturer of industrial power tools with more than 300 power tool and equipment products as well as 800 power tool accessories, including corded and cordless drills, saws, hammers, grinders, routers, planers, plate joiners, sanders, lasers, generators, compressors and nailers, as well as saw blades, metal and masonry drill bits, abrasives, screw driving accessories and more. DEWALT tools can be found wherever tools are sold, nationally and internationally. With over 1,000 factory owned and authorized locations, DEWALT has one of the most extensive service and repair networks in North America. Specifications: DW074, DW078, and DW079 Self Leveling Rotary Lasers
Model DW074 DW078 DW079 Model Replaced NA DW076 DW077 Accuracy ±1/4" per 100' ±1/8" per 100' ±1/8" per 100' Power Supply (2) D Batteries 9.6V-18V 9.6V-18V Run Time 50+ hours 30 hours 30 hours Beam Power (up to) 2mW 4mW 5mW Range (Diameter) 1000' 2000' 2000' Protected Rotary Head Yes Yes Yes Enclosed Battery Door Yes Yes Yes Interior Application Yes No Yes Exterior Application Yes Yes Yes Remote Control No Yes Yes Privacy Mode No No Yes Manual Slope No Yes Yes On/Off No Yes Yes
Kit Includes DW074KD Kit: DW074 Laser, DW0742 Detector and Clamp, Target Card, DW0740 Wall Mount, DW Contractors Bag, (2) "D" Batteries and (1) 9V Battery DW074KDT Kit: DW074KD, DW0748 8' Grade Rod, DW0737 Tripod DW078KE Kit: DW078 Laser, DW0772 Detector and Clamp, DC9096 18V Battery, DW9116 Charger, DW0784 Remote, and Kit Box DW079KI Kit:
DW079 Laser
DW0730 Target Card
DW9096 18V Battery
DW9116 Charger
DW0794 Remote
DW0790 Wall Mount
Kit Box DW079KD Kit:
DW079KI
DW0772 Detector with Clamp DW079KDT Kit:
DW079KD
DW0737 Construction Tripod Price
$449
$919
$1099-$1369 Warranty
3 year limited warranty / 1 year free service (2 Free Calibrations in First Year) / 90 day money back guarantee
More from Machinery & Machining Tools