Self-Hold Motor Protector has built-in heater.
Press Release Summary: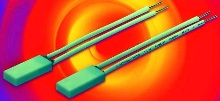 Designed to provide overload and overheat protection, EP42P combines non self-resetting function with built-in ceramic PTC heater positioned directly next to bi-metal sensing switch to provide operational safety in appliances with moving parts. Measuring 17.0 x 7.3 x 3.9 mm, miniature solution features PBT resin-encased enclosure and non-current-carrying bimetal element. It meets UL requirements of motor protection 125 V/250 Vac, ½ hp max.
---
Original Press Release:

Selco Introduces Self-Hold Motor Protector and Thermal Cut-off Featuring Compact Design, Built-in Heater and High Safety


ANAHEIM, Calif. - May 26, 2005 - Selco Products has added the Model EP42P Self-Hold Motor Protector and Thermal Cut-out to its extensive line of thermal control products. Designed to provide overload and overheat protection in a variety of applications, the EP42P is especially suited for use in fractional motors, appliances, lighting equipment, transformers, solenoids, battery chargers, power tools, and electronic systems.

The new device features a non-self resetting function that improves operational safety, particularly in appliances with moving parts such as blenders, grinders and vacuums. This "self-hold" function ensures that after the element reaches its pre-set open temperature, the internal heater activates to maintain a self-regulating temperature, thus preventing the switch from resetting until the user disconnects the power.

"While already quite prevalent in Europe, demand for the "self-hold" type of thermal protector is increasing in the U.S. due to UL requirements for certain types of applications," said Mark Koeckritz, Selco Product Manager. "The EP42P fulfils this requirement and provides an excellent means of appliance protection in a compact package."

The EP42P incorporates a built-in ceramic PTC (positive temperature coefficient) heater, which is positioned directly next to the bi-metal sensing switch. This design provides efficient insulation and fast response time compared to units where the heater is mounted externally to the thermostat. The PBT resin encased enclosure prevents shorting against motor winding and includes 4" length epoxy sealed wire leads. Insulated 22AWG wire leads are available with custom lead lengths, stripped and tinned ends, as specifications require.

Compact in size, the EP42P measures just 17.0 mm x 7.3mm x 3.9mm, offering OEMs a miniature solution for protection against overload and overheating. Other features include a non-current-carrying bimetal element that ensures high accuracy and exhibits a solid "snap-action" sound upon activation. Contact ratings are 8 Amps at 125V and 5 Amps at 250VAC to 300 cycles. The new device meets UL requirements of motor protection 125V/250VAC; 1/2 HP maximum and European approvals rated down to -20ºC ambient testing for motor and thermal cut-out protection. The EP42P is priced from $1.45 each in production quantities of 10,000 pieces with delivery in 6 to 8 weeks.

For further information on the entire line of Selco thermostats, thermistors, electronic controls, knobs, and digital panel meters, contact Selco/ECC, 605 South East Street, Anaheim, Calif., 92805-4842; Toll-Free: (800) 229-2332; E-mail: sales@selcoproducts.com; Web site: www.selcoproducts.com.

More from Agricultural & Farming Products