Self-Cleaning Grate In Housing enables automated operation.
Press Release Summary: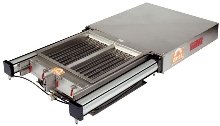 Model GH-12 Drawer Grate In Housing integrates Rare Earth magnets that automatically remove fine tramp iron contamination. Suited for applications where process is continuous and cleaning occurs during operation, product cycles each grate row independently to ensure at least one row always remains in product flow. Unit uses single skin tubes housed in dust-tight, stainless steel housing that can be installed in square, rectangular, or round piping.
---
Original Press Release:

Eriez Self Cleaning Grate In Housing Enables Completely Automated Operation and Superior Separation Performance


Eriez Magnetics, the pioneer in permanent magnetic applications since 1942, introduces its Self-Cleaning Model GH-12 Drawer Grate In Housing, which is ideal for applications where the process is continuous and cleaning occurs during operation.

Eriez Self-Cleaning Model GH-12 Grate In Housing combines the extreme strength of Rare Earth magnets into a totally automated self-cleaning system to automatically remove fine tramp iron contamination. Easier, more frequent cleaning prevents excessive buildup on the magnets and assures maximum separating efficiency.

Designed to be both economical and convenient, the GH-12 is ideally suited for applications where it would be too costly to shut the system down for cleaning, but tramp metal protection must be guaranteed at all times. The Self-Cleaning Grate In Housing cycles each grate row independently, ensuring that at least one row always remains in the product flow.

Eriez single skin tubes are housed in a dust-tight, all stainless steel housing that is easily installed in square, rectangular or round piping. Unique stripping bushings remove the accumulated ferrous particles as the banks are cycled from the housing. As it is stripped off each tube, the iron contamination falls down the chute, which is located outside of the product flow area.

These units are very effective in removing fine particle ferrous contamination from many dry, free-flowing products under gravity flow.

Eriez is recognized as world authority in advanced technology for magnetic, vibratory and metal detection applications. The company's magnetic lift and separation, metal detection, materials feeding, screening, conveying and controlling equipment have application in the process, metalworking, packaging, recycling, mining, aggregate, and textile industries. Eriez manufactures and markets these products through nine international facilities located on five continents. To receive Eriez' SB-200 brochure, call toll-free in the U.S. and Canada at (888) 300-(ERIEZ) 3743 or (814) 835-6000. For online visitors, download product detail at www.eriez.com or send Email to eriez@eriez.com

More from Electronic Components & Devices