Self-Aware Tankless Water Heater suits commercial applications.
Press Release Summary: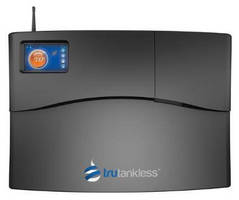 Built to last 20+ years, 17.2 x 23.8 x 5.5 in. commercial-grade trutankless® electric water heaters deliver endless hot water and run at nearly 100% energy efficiency. App (iOS and AOS) enables remote viewing of real-time data from every installation via either customizable dashboard or API to existing POS system. Users can monitor and adjust individual unit temperature settings (which can run up to 170°), view up to 3 years of water usage data, and deploy service professionals if needed.
---
Original Press Release:

Bollente Companies to Unveil trutankless® Commercial Line at the National Restaurant Association Show May 17 through 20, 2014 in Chicago



Winner of 2014 NAHB International Builders Show's "Best Home Technology Product" brings water heating into the 21st century for commercial and light industrial applications, too



PHOENIX -- Bollente Companies, Inc. (OTCQB: BOLC), will unveil its smart commercial-grade trutankless product line at the National Restaurant Association (NRA)'s Restaurant, Hotel-Motel Show May 17 through 20, 2014 in Chicago (booth #9481).



Just as the trutankless residential line of self-aware electric tankless water heaters has transported water heating to a new dimension for homeowners, the commercial product line is designed to be a game-changer in the operation and work flow of a variety of commercial enterprises that count on hot water-- from restaurants and coffee shops, to medical offices, salons and day spas, and even light manufacturing facilities.  This powerfully compact workhorse not only delivers endless hot water, but it also saves considerable space, runs at nearly 100% energy efficiency, and is built to last 20 years or more, far surpassing its tank predecessors.



The commercial line features a proprietary software app (iOS and AOS) that enables business owners or facilities managers to remotely view real-time data from every trutankless installation on either a customizable dashboard or via API to an existing point-of-sale system. Users can monitor and adjust individual unit temperature settings (which can run up to 170 degrees), view up to three years of water usage data, and deploy service professionals if needed--all from an iOS or Android mobile device. Up to 32 units can be linked together in a variety of configurations to suit nearly any commercial or industrial application, without the need to purchase additional controls or monitoring equipment.



"Our enterprise management software is designed to provide businesses with round-the-clock remote access to every trutankless unit and allow owners to instantly verify compliance with local health codes, something no other water heater on the market can do," said Derrick Mains, COO of trutankless, a division of Bollente Companies. "When you combine that with the unit's ability to shut itself down in the event of a leak, proactively notify the business of a service disruption, order parts and even schedule a service call, you get an appliance that actually acts as a business partner. It's truly hassle-free."



Measuring in at a svelte 17.2 inches high, 23.8 inches wide by 5.5 inches deep, trutankless offers significant space savings compared to its bulky tank heater counterparts.  Also, because it requires no venting, the unit can be installed virtually anywhere - allowing business owners to more efficiently utilize their most limited resource: cubic feet. 



"The space savings alone is like money in the bank," said SUBWAY franchise owner Bill Riggall, who had a commercial unit installed in his high-volume West Virginia restaurant. "We were able to add much-needed storage space where our old 80-gallon tank used to stand. However, what's just as valuable is the peace of mind I now have, knowing my trutankless unit will never cause a flood.  In fact, it'll tell me ahead of time if a part needs to be fixed or replaced.  That's something I never expected from a water heater."



The trutankless commercial line is set to debut at NRA's upcoming Restaurant, Hotel-Motel Show May 17 through 20, 2014 in Chicago. Over 60,000 foodservice professionals are expected at the four-day show, which is touted as a launching pad for innovation within the food, beverage and lodging industries.



The trutankless residential line earned the "Best Home Technology Product" award and significant industry and media buzz at the NAHB International Builders Show in Las Vegas earlier this year.



About trutankless:

Packed with patent-pending proprietary technology, trutankless is engineered to outperform and outlast both its tank and tankless predecessors in energy efficiency, output, and durability.  Not only does it provide endless hot water on demand, it also integrates with point-of-sale systems and has its own enterprise management app (iOS/AOS), which allows businesses to control water temperature to within one degree, obtain service notifications, and monitor usage from their mobile devices. 



About the Company:

Founded in 2010, trutankless, a division of Bollente Companies, Inc. (OTCQB: BOLC), was brought to life through the combined insight, ingenuity, and drive of industry professionals, engineers, and entrepreneurs.  The objective was to create a line of electric tankless water heaters that far surpasses traditional tank water heaters in energy efficiency, output, dependability and environmental sustainability while overcoming the frustrating drawbacks of other tankless units on the market today.



The trutankless mission is to efficiently provide hot water on demand by combining smart engineering with forward-thinking technologies that save owners money, energy, and space.  For more information, please visit www.trutankless.com or call 855-TO-BUY-TRU.



CONTACT:

Jennifer Breitegan

480-528-7870

jen@kwprgroup.com

More from Sensors, Monitors & Transducers