Self-Adhesive PE Foam Strips protect products during transport.
Press Release Summary: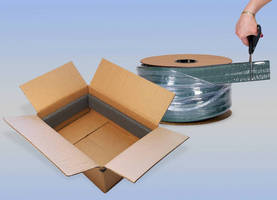 Supplied in 3/8, 1/2, and 3/4 in. thicknesses, 2.3 in. tall Form-It™ strips provide customizable method to cushion and protect products. Users cut desired length from roll, peel off release liner to expose adhesive, and affix into position. Typically applied to inside of corrugated container or carton used for transport, self-adhesive polyethylene (PE) foam strips may be used for blocking and bracing as well as creation of such custom forms as dividers, U-channels, L-shapes, and pockets.
---
Original Press Release:

Pregis Introduces Form-It(TM) Customizable, Self-Adhesive Protective Packaging Foam Strips



Deerfield, Ill.– Pregis Corp. introduces Form-It™, a new customizable method to cushion and protect a wide variety of product types via self-adhesive polyethylene foam strips.



Users can quickly cut the desired length from the roll, peel off the release liner to expose the adhesive and affix into position—typically on the inside of a corrugated container or carton which is used to transport the product.  Form-It foam strips are ideal for blocking and bracing or to create custom dividers, U-channels, L-shapes, pockets, etc.



The ability to customize Form-It allows packers to trim to necessary lengths to protect varied products.  In some instances, spot protection is desirable and in other instances, more substantial usage may be required. The affordable, customization option helps decrease fabrication and design costs.



Form-It™ foam strips are available in three thicknesses (3/8-, 1/2- and 3/4-inches) to meet light, medium and heavy-duty protective packaging requirements.  The 2.3-inch tall material is delivered on 40-, 50- and 55-foot reels (depending on thickness) and offers excellent load bearing, insulation and impact absorption characteristics.  Additionally, rolls take up less inventory space than custom fabrications.



Ideal applications include appliances, furniture and fixtures, case goods, electronics, household items, industrial components and lighting.  Also well-suited for small-to-medium sized manufacturers and e-commerce operations, retail stores (shipping, moving, industrial and office supplies), import redistribution, automotive shops and home workshops.



About Pregis:

Pregis Corporation is a leading global provider of innovative protective packaging materials and systems. The company offers solutions for a wide variety of consumer and industrial market segments including food, beverage, healthcare, medical devices, agricultural, e-commerce, retail, automotive, furniture, electronics, construction and military/aerospace. Pregis currently operates 26 facilities in 10 countries in North America and Europe. For more information, visit www.pregis.com.



Please forward sales inquiries to:

Pregis Corp.

1650 Lake Cook Road, Ste. 400

Deerfield, IL 60015

Phone: (877) 692-6163

Email: protectivesales@pregis.com





Media Contacts:

Dache Davidson   

Pregis Corp.                                                                                                                                   

+1 (847) 597-9357                                                                                               

ddavidson@pregis.com                                                                                                           



Sophia Dilberakis

DD Communications

+1 (312) 787-5800

sophiad@att.net







More from Sensors, Monitors & Transducers