Selective Herbicide kills weeds but not grass or other plants.
Press Release Summary: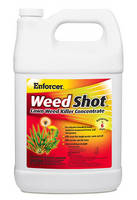 Suited for use as broadcast or spot treatment on ornamental lawns and turf grasses, Enforcer® Weed Shot uses 2,4-D, dimethylamine salt to kill broadleaf weeds and begins to work overnight. Active ingredients mimic weeds' growth hormones, which causes deformed growth in weeds' vascular systems and kills weeds down to roots. This concentrated herbicide and treat 950 ft² of lawn with 5–6 oz diluted into 5 gal of water. Other uses include controlling brush and vines along roads.
---
Original Press Release:
Enforcer® Weed Shot Kills Weeds, Not Lawns
ATLANTA – Zep introduces Enforcer® Weed Shot, a concentrated herbicide that kills tough weeds down to the roots, without harming lawns. It is ideal for use as a broadcast treatment or spot treatment on ornamental lawns and turf grasses. It can also be used to control brush and vines along roads.

"Weed Shot is a selective herbicide," says Nishad Chikhliker, Senior Product Marketing Manager, Zep North American Sales & Service. "That means it can be used to target and eliminate certain vegetation – specifically weeds -- while keeping other plants and grasses safe."

Chikhliker explains that the active ingredients in Weed Shot mimic the weeds' growth hormones, causing deformed growth in the weeds' vascular systems. This causes the leaves to shrivel up and die. Because grasses typically contain different growth hormones, these active ingredients don't affect them.

Weed Shot uses 2, 4-D, dimethylamine salt to kill broadleaf weeds including dandelion, violet, morning glory, thistle, goldenrod, ragweed, spurge, plaintain, chickweed and clover. It begins to work overnight, for fast-acting results.

The product – available in 1-gallon bottles, 5-gallon pails, and 55-gallon drums – is concentrated, providing a better value than ready-to-use products. For most applications, 950 square feet of lawn can be treated with 5-6 ounces of product, diluted into 5 gallons of water.

For more information on Enforcer Weed Shot and Zep's other herbicide products, visit www.zep.com. Watch the video: http://www.youtube.com/watch?v=Tp9WLRvHjrg. To purchase the product, call 1-877-I-BUY-ZEP to find a rep near you.

About Zep Inc.
Zep Inc., with fiscal year 2012 net sales of $654 million, is a leading consumable packaged goods company that manufactures a wide variety of high-performance maintenance and cleaning chemicals that help professionals and prosumers clean, maintain and protect their assets. We are focused on the attractive industry dynamics of the transportation market and the industrial maintenance and repair operation (¨DMRO¡¬) market which together now comprise approximately 61% of our revenue with the balance derived from sales into the facilities maintenance vertical. We market these products and services under well recognized and established brand names, such as Zep®, Zep Commercial®, Zep Professional®, Enforcer®, National Chemical™, Selig™, Misty®, Next Dimension™, Petro®, i-Chem®, TimeMist®, TimeWick™, MicrobeMax®, Country Vet®, Konk®, Blue Coral®, Black Magic®, Rain-X®, Niagara National™, FC Forward Chemicals®, Rexodan®, Mykal™, and a number of private labeled brands. Founded in 1937, some of Zep's brands have been in existence since 1896. Zep Inc. is headquartered in Atlanta, Georgia. Visit our website at www.zepinc.com.


Linda Barlow
Marketing & PR Copywriter LLC
www.barlow-writer.com  
lbarlow416@gmail.com
Phone: 267-481-0502